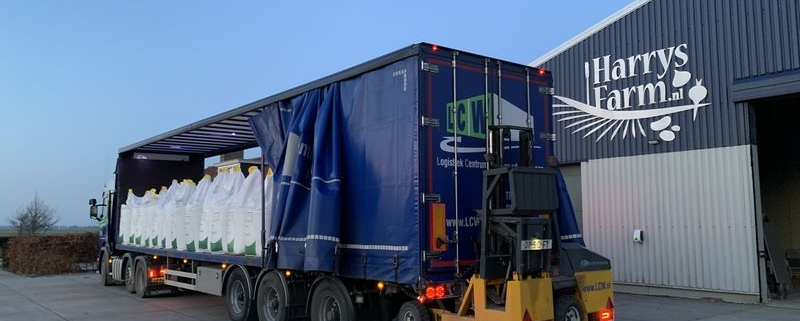 Net als andere jaren word er rond februari een bemestingsplan gemaakt. Ik weet dan hoe ons bouwplan er voor 2022 uit gaat zien. Samen met Delphy maak ik dan een bemestingsplan voor het hele jaar. Delphy is onafhankelijk adviespartij die akkerbouwers adviseert. Per gewas en ras wordt er goed gekeken wat de behoefte is aan de mineralen stikstof, fosfaat en kalium.
Voor de zogenaamde mestwetgeving moeten we precies bijhouden wat er aan de mineralen, stikstof en fosfaat, aangevoerd mag worden. Dat is stikstof en fosfaat zowel in de vorm van kunstmest of dierlijke mest, maar ook andere mestsoorten zoals champost of compost horen daar bij.
Gewassen hebben meststoffen nodig voor een goede opbrengst. Meststoffen die niet door gewassen worden opgenomen, komen terecht in de bodem en in het water. Dat belast het milieu. Om die belasting zo veel mogelijk te beperken is er een mestbeleid. In het mestbeleid werken we met gebruiksnormen. De gebruiksnormen geven de maximale hoeveelheid stikstof en fosfaat aan die u mag gebruiken voor het bemesten van uw landbouwgrond. De overheid stelt gebruiksnormen voor de maximale hoeveelheden stikstof, fosfaat en dierlijke mest die landbouwers mogen toepassen bij de teelt van een bepaald gewas. Deze normen moeten ervoor zorgen dat een gewas niet onnodig veel meststoffen krijgt en dat er zo min mogelijk mest uitspoelt naar het grondwater. (Bron: Rijksoverheid.)
Om nog meer te weten te komen hoe de mestwetgeving in elkaar zit klik hier.
Een deel van de stikstof en fosfaat voer ik aan via minerale meststoffen (kunstmest) zoals KAS (Kalkammonsalpeter). Later in het seizoen gebruik ik dierlijke meststoffen zoals bijvoorbeeld rundveedrijfmest, geitenmest of kippenmest, maar ook champost. Samen met de groenbemesters die we later dit jaar telen proberen we de bodem zo in een goede conditie te houden. De meeste fosfaat wordt aangevoerd met geitenmest, rundveedrijfmest en champost. Alleen voor het gewas peterselie wordt een minerale aanvulling van fosfaat in de vorm van kunstmest gegeven,.
Een deel van de minerale meststoffen is bezorgd. Agrifirm levert jaarlijks de kunstmeststoffen. Deze worden geleverd in bigbags. Hierin zit 600 kg kunstmest.
De kunstmest is door de hoge energieprijzen van vooral gas erg duur. De kunstmest is zeker tweemaal zo duur als vorig jaar. Nu er ook nog eens een foute oorlog losbarst in Oekraïne zullen de prijzen zeker niet gaan dalen.
https://www.harrysfarm.nl/wp-farm/uploads/2022/03/IMG_8345_-Harrysfarm-akkerbouw-Swifterbant-Flevoland-2-maart-2022-aanvoer-kunstmest-Agrifirm-.jpg
600
800
Harry Schreuder
https://harrysfarm.nl/wp-farm/uploads/2018/05/Logo.png
Harry Schreuder
2022-03-02 16:32:08
2022-03-03 16:40:05
Ontvangst kunstmest