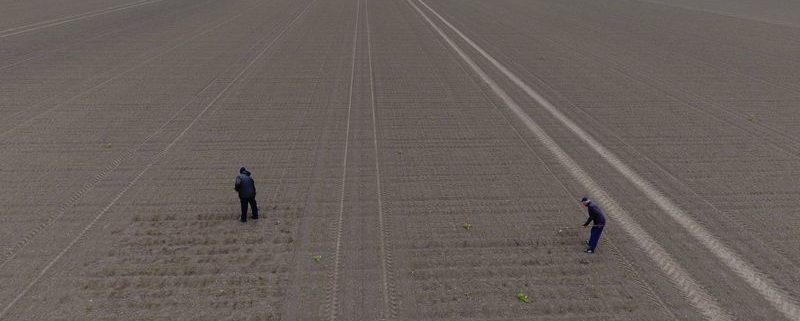 Dunnen suikerbietenproefveld
Maandag 8 mei is SES van der Have begonnen met het dunnen van het suikerbietenproefveld wat jaarlijks bij ons tussen onze eigen suikerbieten ligt. Met 8 man worden de suikerbieten handmatig gedund met de hak. Het suikerbietenproefveld is ca. 2,5 ha groot en heeft ca. 2000 plots (proeven) van 1,5 breed bij 6 meter lang.
Voordat de suikerbieten gedund worden heeft SES van der Have eerst met een speciale machine strepen getrokken. Voorop een trekker hangt een 3 meter brede schoffelbalk die de paden tussen het proefveld schoffelt. Achter de trekker hangt een brede balk met daaraan schijven die de strepen door het proefveld trekt. Er worden dan vakjes van ca. 20 cm breed gemaakt. Het proefveld is gezaaid met een afstand in de rij van 10 cm.  Dit doen ze zo om er zeker van te zijn dat er voldoende suikerbietenplanten staan voor een betrouwbaar resultaat. Door de strepen te trekken kunnen de medewerkers die de suikerbieten dunnen beter zien wat ze weg moeten hakken. Ze dunnen ze zo dat er in de rij om de ca. 20 cm een suikerbietplantje komt te staan.  In elk vakje moet 1 suikerbietplantje overblijven.
---
Hieronder is goed te zien hoe de strepen getrokken zijn. Bij de middelste twee vakken moeten dus wat suikerbieten weggehakt worden.
---
Hieronder een fotoserie van de medewerkers die het proefveld dunnen.
---
Hieronder een video met beelden van het dunnen.
https://www.harrysfarm.nl/wp-farm/uploads/2017/05/Harrysfarm-Swifterbant-Flevoland-8-mei-2017-suikerbieten-dunnen-proefveld-SES-van-der-Have-AB-Oost-DJI_0027.jpg
600
800
Harry Schreuder
https://harrysfarm.nl/wp-farm/uploads/2018/05/Logo.png
Harry Schreuder
2017-05-08 18:50:34
2018-07-18 11:18:15
Dunnen suikerbietenproefveld