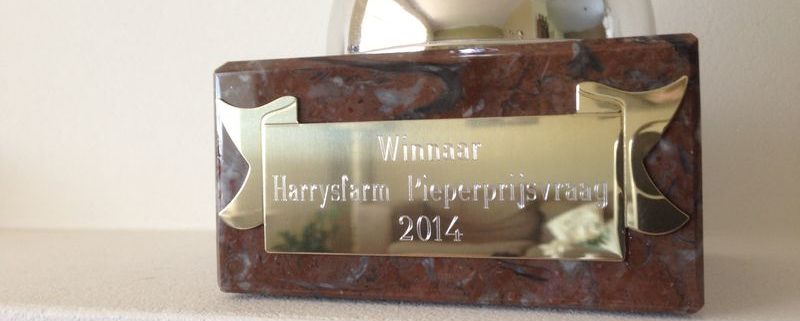 Winnaar Pieperprijsvraag 2014 bekend
De winnaar van de derde editie van de Harrysfarm pieperprijsvraag 2014 is bekend. 2 jaar geleden ontstond het idee van deze prijsvraag. Dat kwam omdat bij het jaarlijkse afleveren van de aardappelen altijd de vraag is kunnen de aardappels nou wel of niet op de vrachtwagen. Moeten we nog een vrachtwagen bestellen of niet. Op den duur bleef er nog een klein hoopje aardappelen liggen waarbij we zeker wisten dat die wel op een vrachtwagen kon. Maar hoeveel ligt er dan. Zelfs als je in real life bij de hoop aardappelen staat is het nog moeilijk schatten. Dus foto gemaakt, getwitterd en gevraagd aan de volgers wat hun schatten. De prijs een bodywarmer met het toen net fonkelnieuwe Harrysfarm logo. En zo is de pieperprijsvraag ontstaan.
Het werd een groot succes, want het eerste jaar deden er 125 mee en in 2013 zelfs 153. Dit jaar waren de aanmeldingen nog groter met een nieuw record van 203 pogingen.
In 2014 deden er 139 twitteraars mee, 17 via Facebook, 31 via de website en de rest via mail.
Op twitter was #pieperprijsvraag even trending topic door de vele pogingen via tweets.
Uiteindelijk kwamen er 2 winnaars uit met een geschat gewicht van 26250 kg. Dat is een verschil van 10 kg.
De winnaars zijn Robert Stokman uit Biddinghuizen en Henk de Vlieger uit Zeeland. Om niemand teleur te stellen krijgen beide winnaars een bodywarmer en de bijna 50 cm grote Pieperprijsbokaal. Deze word voor het eerst uitgereikt.  Ik wil natuurlijk alle deelnemers aan de Pieperprijsvraag bedanken voor hun deelname. Hopelijk doen jullie volgend jaar ook weer mee.
https://www.harrysfarm.nl/wp-farm/uploads/2017/02/Harrysfarm-Swifterbant-Flevoland-26februari2014-aardappels-pieperprijsvraag-IMG_4962.jpg
600
800
Harry Schreuder
https://harrysfarm.nl/wp-farm/uploads/2018/05/Logo.png
Harry Schreuder
2014-03-04 08:42:48
2017-02-23 08:45:38
Winnaar Pieperprijsvraag 2014 bekend