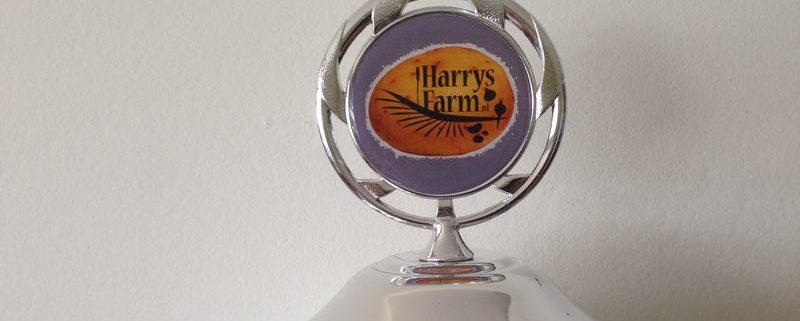 26 februari 2014; 3e Harrysfarm Pieperprijsvraag
Dit jaar kan iedereen weer meedoen aan de Pieperprijsvraag van Harrysfarm. Inmiddels de derde editie. Hierboven de videotrailer. Begonnen als ludieke actie maar inmiddels na 2 jaar een jaarlijks terug kerend fenomeen.

Wat houd de pieperprijsvraag ook alweer in ?
Raad op de 2 foto's de totale hoeveelheid bruto kilogram aardappelen ( dus samen) die er nog in de schuur liggen. Bruto wil zeggen, aardappelen incl. iets grond, loofjes, verkeerde aardappelen etc. De aardappelen kunnen op 1 vrachtwagen. Zodra bekend is wat de hoeveelheid bruto kilogrammen is stopt de prijsvraag en word de uitslag op nader te bepalen tijdstip in de avond bekend gemaakt . Het kan nog wel een week duren voordat de uitslag bekend gemaakt word. Doe snel een schatting.
Wat kan men winnen?
Voor het derde achtereenvolgende jaar kan men een Harrysfarm bodywarmer winnen. Nieuw dit jaar is dat de winnaar ook de Harrysfarm Pieperprijsvraag bokaal wint. De prijs word natuurlijk overhandigt door mij, Harry.
Hieronder de foto's: Dit maal iets moeilijker omdat er een grote hoop is en een klein hoopje. Deze 2 hoopjes moeten opgeteld worden om tot de totale hoeveelheid bruto kilogrammen te komen.
Wie komt er dit jaar er dichtste in de buurt ? Toch weer een agrarier of gaat er dit jaar een burger met de bodywarmer en bokaal aan de haal. Blijft de prijs in Flevoland of gaan we dit jaar op weg naar Limburg met de bodywarmer en bokaal? Ik ben benieuwd. Doe allemaal je best.
---
Hieronder de winnaars van de eerste 2 edities Harrysfarm Pieperprijsvraag.
https://www.harrysfarm.nl/wp-farm/uploads/2017/02/Harrysfarm-Swifterbant-Flevoland-26februari2014-aardappels-pieperprijsvraag-IMG_4963.jpg
600
800
Harry Schreuder
https://harrysfarm.nl/wp-farm/uploads/2018/05/Logo.png
Harry Schreuder
2014-02-26 08:35:42
2018-07-18 11:18:45
26 februari 2014; 3e Harrysfarm Pieperprijsvraag