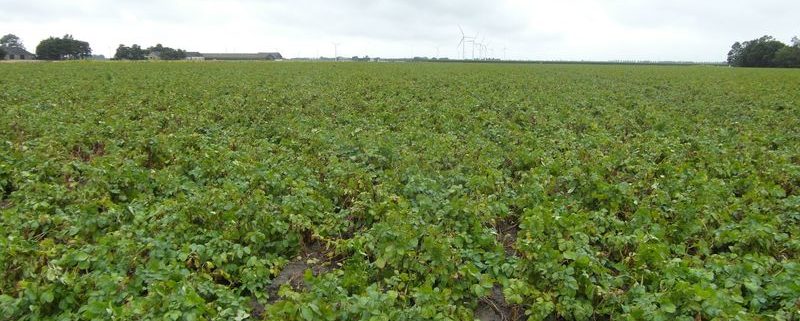 2 september 2012: weekoverzicht
De Ramos aardappelen hebben best nog wel wat groenigheid maar ondergronds groeien de knollen niet hard meer. Ik heb inmiddels 2 grote proefrooiingen gedaan namelijk op 13 en 27 augustus. Ik heb op 2 stukken uit het perceel aardappelen, 3 meter rug gerooid.
Na het wassen van de aardappelen en het wegen en bepalen van de maat kom ik met de volgende cijfers.
Op 13 augustus is de opbrengstverwachting 51,3 ton/ha inclusief 15% aftrek (rooiverliezen), waarvan 65,4 % boven de 50 mm.
Op 27 augustus is de opbrengstverwachting 60,1 ton/ha inclusief 15 % aftrek (rooiverliezen), waarvan 65,7 % boven de 50 mm.
Vergeleken met vorig jaar is dit ca. 5 % minder opbrengst. Opvallend is tevens dat er vorig jaar veel meer knollen boven de 50 mm waren. Vorig jaar 149 knollen dit jaar 104 knollen. Het aantal knollen boven de 25 mm was vorig jaar 212 en dit jaar 247. Vorig jaar was de opbrengst van nu 27 augustus vorig jaar al op 15 augustus gehaald. Dat heeft te maken met het zeer warme voorjaar. Voor goeie frites moeten de meeste knollen in de maat boven de 50 mm zijn.
Vorig jaar stonden er als voorvrucht van de aardappelen uien op het perceel.
1 perceel van 5 ha uien zijn toen in de bewaarplaats gegaan en het andere perceel van 4 ha uien heb ik ondergeploegd, omdat ik hier niet genoeg geld voor kon krijgen. Om te kijken of er verschil zit in opbrengst heb ik uit deze 2 percelen 3 meter aardappelrug gerooid. En wat mijn vermoeden al bevestigde zit er duidelijk verschil in de 2 percelen. Onder het ondergeploegde uienperceel zit 7 ton/ha meer aardappelen en ze zijn ook nog 10 % grover.
Vorig jaar kon ik op het laatst 1 ct/kg voor de uien krijgen. Met een opbrengst van ca. 75 ton/ha is dat 750 euro/ha. De kosten voor het opladen moet hier nog van af.
Als zo als het nu lijkt de aardappels redelijk aan de prijs worden. Ik reken maar met een prijs van 15ct/kg en een opbrengst van 63 ton/ha (andere deel 57 ton/ha) is dat verschil  900 euro/ha. Dus toch nog een voordeel. Tevens heb ik op dit deel door de nalevering van de uien nog minder kunstmest gestrooid. Worden de aardappels duurder dan word het verschil nog groter, andersom word het verschil kleiner.
Komende week zal ik nog een laatste proefrooiing doen om te kijken of het verschil er nog steeds is en of de aardappels nog wel gegroeid zijn. Dan bepaal ik tevens of ik ze doodspuit. Na het doodspuiten heeft de aardappelziekte "phytophtora infestans " geen kans meer om toe te slaan.  Rond 6 september wil de aardappels doodspuiten Na het doodspuiten moeten de aardappels nog goed afharden in de grond. Dit duurt ongeveer 2-3 weken. Eind september zou ik de aardappels dan kunnen rooien.
https://www.harrysfarm.nl/wp-farm/uploads/2017/01/HarrysFarm-Swifterbant-Flevoland-2september2012-SAM_0669.jpg
600
800
Beheer
https://harrysfarm.nl/wp-farm/uploads/2018/05/Logo.png
Beheer
2012-09-02 16:39:33
2017-01-22 16:41:56
2 september 2012: weekoverzicht