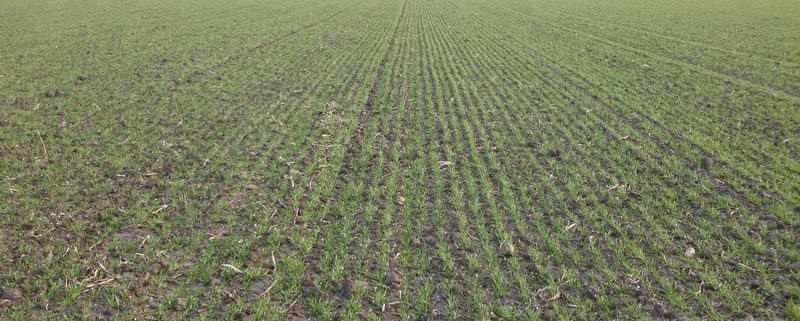 15 januari 2012: eerste helft van januari
De maand januari is inmiddels 15 dagen onderweg. Nog steeds geen vorst, maar wel veel wind en al 80 mm regen. Tevens zie je door het zachte weer dat de wintertarwe percelen er mooi groen van kleur op staan. Maar de winter is nog niet voorbij, want komende week worden de nachten al wat kouder.
Afgelopen week de laatste machines en trekker schoon gemaakt. Tevens een paar vergaderingen en een excursie naar SES van der Have te Rilland. Met de diverse suikerbieten proefveldhouders die door heel Nederland zitten hebben we de fabriek van SES van der Have in Tienen (Belgie) bezocht. Daar kregen we te zien hoe het zaad zijn weg vind naar zaad wat geschikt is om te zaaien. Daar is een heel proces mee gemoeid. In Rilland kregen we te horen hoe de veredeling gaat van het suikerbietenzaad.
Donderdagmiddag een eerste bijeenkomst van Veldleeuwerik bijgewoond in Nagele. In de Stichting Veldleeuwerik werken agrarische ondernemers, adviseurs, afnemers, leveranciers en verwerkende industrie samen aan een duurzame voedselproductie. Komend jaar worden er weer nieuwe groepen opgestart van ca. 8 akkerbouwers per groep. Ik doe daar dit jaar ook aan mee met een groep. Het is de bedoeling dat ik een duurzaamheidsplan ga opstellen. Met de groep gaan we tijdens het seizoen allerlei dingen bespreken wat met duurzaamheid te maken heeft.
Deze middag was voor mij ook een eerste kennismaking met Veldleeuwerik. Niet kerende grondbewerking was 1 onderwerp dat deze middag gepresenteerd werd. Heel interessant. In Flevoland is 1 teler hiermee al aan het experimenteren. Dat betekent niet meer ploegen of spitten, want dat zou het bodemleven o.a. negatief beinvloeden.
Over een aantal jaren zullen we zien of dit ook steeds meer in Flevoland toegepast gaat worden.
https://www.harrysfarm.nl/wp-farm/uploads/2017/01/Harrysfarm-Swifterbant-Flevoland-15januari2012-15januari2002.jpg
450
800
Beheer
https://harrysfarm.nl/wp-farm/uploads/2018/05/Logo.png
Beheer
2012-01-15 20:13:34
2017-01-20 14:51:48
15 januari 2012: eerste helft van januari