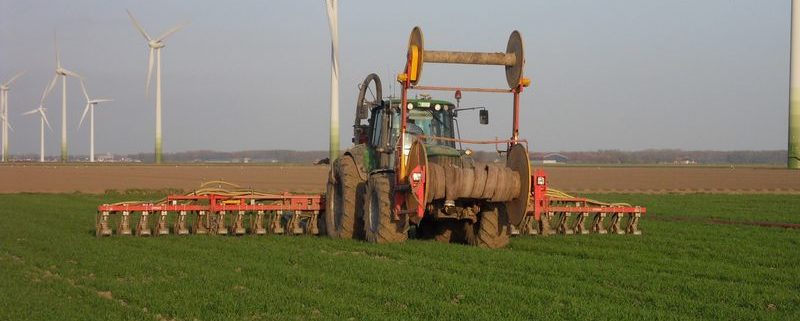 22 januari 2012: bemestingsplan
Donderdagmorgen is een adviseur van Agrifirm langs geweest om voor 2012 een bemestingsplan te maken. Elk jaar rond deze tijd laat ik zo'n bemestingsplan opmaken. Door zo'n plan maak je inzichtelijk wat voor soort en hoeveelheid bemesting (mest, kunstmest, overige ) je komend jaar gaat gebruiken op je gewassen. Dit om je gewassen zo optimaal te laten groeien binnen de regels die we als akkerbouwer opgelegd hebben gekregen van de overheid.
Want onbeperkt kunstmest strooien op je land mag niet. En je mag ook niet onbeperkt mest laten uitrijden over je land. Daar is het mestbeleid voor gemaakt in Nederland. Fosfaat en stikstof zijn de elementen die in het mestbeleid naar voren komen. Want overmatig gebruik van mest –zowel dierlijke mest als kunstmest- heeft negatieve gevolgen. Zoals te veel algen in sloten, waardoor planten en vissen verstikken. Of teveel nitraat in het drinkwater. Om deze gevolgen zoveel mogelijk te beperken, is het mestbeleid ingevoerd. Dit beleid is gebaseerd op de Europese Nitraatrichtlijn. (bron: rijksoverheid)
Voor de teelt van een gewas heeft de overheid gebruiksnormen ingesteld. De gebruiksnormen geven aan hoeveel stikstof en fosfaat we maximaal mogen gebruiken. Voor uien mag je bijvoorbeeld maximaal 170 kg stikstof/ha gebruiken, maar voor wintertarwe is dat 245 kg stikstof/ha. Deze getallen zijn gebaseerd op wat een gewas nodig heeft om een optimaal economisch resultaat te geven. Te veel heeft ook geen zin voor ons want dat kost ons alleen maar geld.
Voor fosfaat is het anders. Daar geldt een vaste norm/ha. Heeft de grond waar de gewassen op groeien een lage fosfaattoestand dan kunnen we deze norm nog iets verhogen. Maar dat moeten we wel aan kunnen tonen m.b.v grondonderzoeken genomen door een geaccrediteerd laboratorium.
Door extra regels, ( bijvoorbeeld  geen stikstof strooien over bevroren grond, drijfmest toepassen na half februari, zaai je een groenbemester na een teelt dan mag je weer extra stikstof gebruiken etc. ) word het er voor ons als akkerbouwer niet makkelijker op. We moeten goed nadenken wanneer we iets doen of het wel mag of kan. Met andere woorden het is een hele materie, maar wel belangrijk. Want doen we het niet goed, door teveel stikstof of teveel fosfaat te gebruiken dan worden we bekeurd. Deze boetes lopen al gauw op. Dat hebben we liever niet. Dus vandaar dat het belangrijk is om een plan te maken. Hoe het allemaal verder werkt is op de website van ministerie van E & L te vinden.
Door het maken van het bemestingsplan krijg ik nu ook inzichtelijk hoeveel kunstmest ik moet aankopen. Deze heb ik door het plan gelijk besteld. Volgende week komt er een vrachtwagen vol gevuld met bigbags. In deze bigbags gaat 600 kg kunstmest. Deze bigbags kan ik straks makkelijk legen boven de kunstmeststrooier. Door het kunstmest nu al te laten komen, kan ik , wanneer straks het gewas de kunstmest nodig heeft direct gaan strooien.
https://www.harrysfarm.nl/wp-farm/uploads/2017/01/HarrysFarm-Swifterbant-Flevoland-22januari2012-bemestingsplan-22januari20121.jpg
600
800
Beheer
https://harrysfarm.nl/wp-farm/uploads/2018/05/Logo.png
Beheer
2012-01-22 20:17:39
2017-01-19 20:20:08
22 januari 2012: bemestingsplan