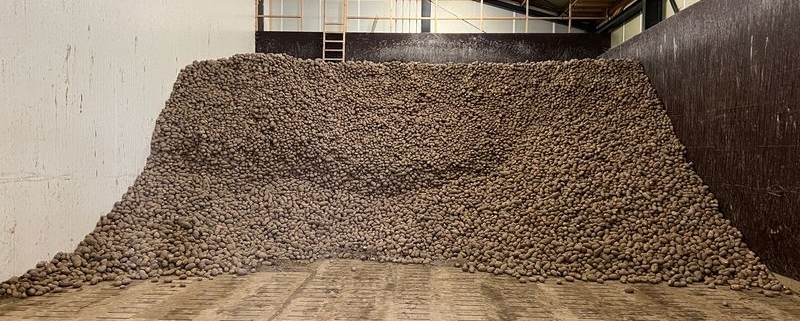 11e editie Pieperprijsvraag gestart
De 11e editie van de Harrysfarm Pieperprijsvraag is weer gestart. Vrijdagmiddag 15 april is de prijsvraag gestart. Doel van de pieperprijsvraag is:
Raad de hoeveelheid bruto kilogram aardappelen!
Tot en met dinsdag 3 mei 12.00 uur kun je nog een poging wagen om de hoeveelheid kg aardappels in de schuur te raden.
Doe nu mee en win de felbegeerde Harrysfarm Pieperprijsvraagbeker, de Harrysfarm bodywarmer of één van de drie geldprijzen beschikbaar gesteld door onze sponsor Omnivent.
Wat houdt de Pieperprijsvraag in?
Raad op de foto's de totale hoeveelheid bruto kilogram aardappelen die nog in de schuur en in de stortbak liggen. Bruto wil zeggen, aardappelen incl. iets grond, loofjes, verkeerde aardappelen etc. Op 3 mei om 12.00 uur stopt de prijsvraag. 's Avonds om 21.00 uur wordt de uitslag bekend gemaakt via Twitter en zal later ook op o.a. Facebook verschijnen. Wie het dichtst bij de hoeveelheid komt of precies raadt wint een Harrysfarm bodywarmer en de felbegeerde Harrysfarm beker. Natuurlijk komt Harry zelf de prijs overhandigen.*
We zijn verheugd dat onze sponsor Omnivent weer drie geldprijzen beschikbaar heeft gesteld! De winnaar ontvangt een bon ter waarde van 150 euro. De tweede prijs een bon ter waarde van 100 euro en de derde prijs een bon ter waarde van 50 euro.*Lees vooral de spelregels! Daarin staan ook tips !!!!
Hieronder de foto's.
Inmiddels doen er al meer dan 150 deelnemers mee aan de Pieperprijsvraag.
---
Het Pieperseizoen op Harrysfarm in beeld gebracht.
https://www.harrysfarm.nl/wp-farm/uploads/2022/04/IMG_9260_-Harrysfarm-akkerbouw-Swifterbant-Flevoland-15-april-2022-pieperprijsvraag-.jpeg
600
800
Harry Schreuder
https://harrysfarm.nl/wp-farm/uploads/2018/05/Logo.png
Harry Schreuder
2022-04-21 17:18:36
2022-04-21 17:18:36
11e editie Pieperprijsvraag gestart