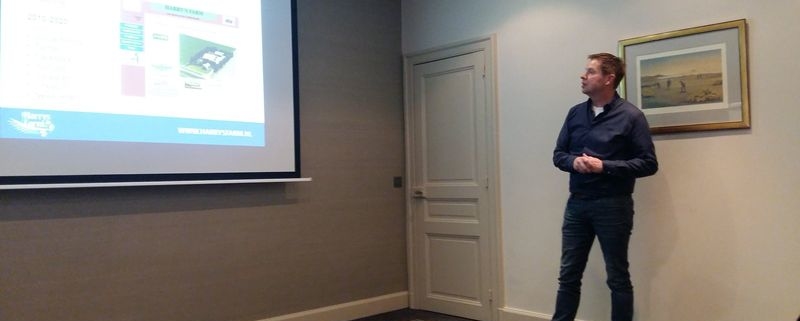 Maandagmiddag 10 februari ben ik door het IIRB, the International Institute of Sugar Beet Research, uitgenodigd om iets te vertellen over hoe ik communicatie inzet voor ons akkerbouwbedrijf. Ik ben door Jurgen Maassen van het IRS gevraagd om iets te presenteren.
Met de trein rond het middaguur vanuit Lelystad, via Schiphol op de Thalys HSL trein vertrokken richting Brussel. De meeting was in een zaaltje van hotel Le Plaza in het centrum van de stad. Ik heb daar een presentatie gehouden over wat ik zoal doe op het gebied van sociale media, website, nieuwsbrief en hoe ik o.a. de burger, geïnteresseerden  etc. op een positieve manier probeer te informeren over de dagelijkse gang van zaken op ons akkerbouwbedrijf.
De IIRB is een internationaal organisatie waar suikerbieten specialisten kennis van elkaar delen. Ze hebben verschillende werkgroepen waar communicatie 1 van is. In deze meeting, waar communicatie specialisten van Engeland, Duitsland, Oostenrijk, Zweden en Frankrijk bij aanwezig waren, werd besproken welke communicatie mogelijkheden er zijn om suikerbieten telers beter te informeren. Al met al was het een interessante meeting met een goeie discussie.
https://www.harrysfarm.nl/wp-farm/uploads/2020/02/IMG_3024_-Harrysfarm-akkerbouw-Swifterbant-Flevoland-11-februari-2020-presenatie-IIRB-Brussel-.jpg
450
800
Harry Schreuder
https://harrysfarm.nl/wp-farm/uploads/2018/05/Logo.png
Harry Schreuder
2020-02-10 18:15:48
2020-02-12 19:10:16
IIRB Brussel