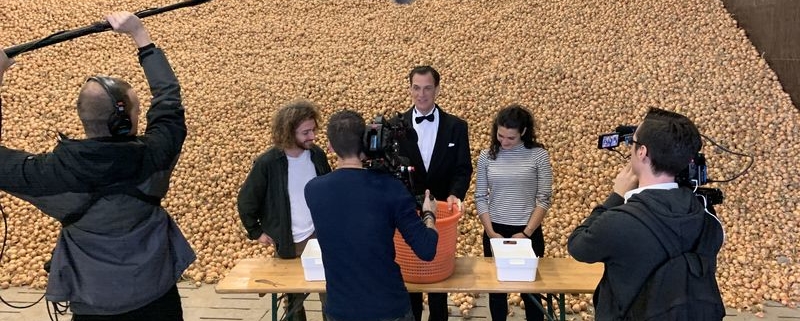 Video-opnames AD online serie The Butler
Dinsdag 15 oktober zijn op ons akkerbouwbedrijf video-opnames gemaakt voor de online video serie, The Butler.
Nederland wordt overspoeld met toeristen. Het beeld dat zij van ons land krijgen, is eenzijdig. Reden voor Gregory Shapiro om in te grijpen; in de videoserie The Butler neemt hij wekelijks toeristen mee voor The Real Dutch Experience. (Bron; AD online)
Greg Shapiro is bekend van Comedy Central News en heeft o.a. de wereldwijd veel besproken video over Trump voor Arjen Lubach ingesproken. Zie hier de video.
Vandaag staat de aflevering in het teken van de Nederlandse landbouw. Nietsvermoedende toeristen zijn bij Batavia Outlet Centre te Lelystad met een limousine opgehaald en naar Harrysfarm gebracht. De toeristen zijn 2 Italiaanse studenten die op de Wageningen Universiteit studeren. Van tevoren wordt niet verteld wat ze deze dag gaan doen.
---
Ze moesten op ons bedrijf allerlei opdrachten doen. Zoals aardappels en uien schillen. Aardappels rooien met de hand.De trekker wassen en hutspot maken. Tussendoor hebben ze bij keurslager Klaver uit Dronten worst gemaakt die later bij ons in de keuken bij de hutspot gebruikt werd.
Binnenkort komt de video online te staan. Later meer.
https://www.harrysfarm.nl/wp-farm/uploads/2019/10/IMG_1622_-Harrysfarm-akkerbouw-Swifterbant-Flevoland-15-oktober-2019-opnames-video-The-Butler-AD-online-.jpg
600
800
Harry Schreuder
https://harrysfarm.nl/wp-farm/uploads/2018/05/Logo.png
Harry Schreuder
2019-10-15 11:44:27
2019-10-16 11:59:50
Video-opnames AD online serie The Butler