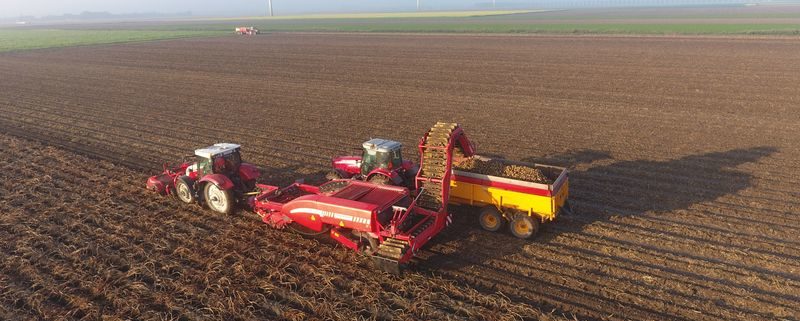 Aardappeloogst op Harrysfarm achter de rug
Vrijdagochtend 13 oktober zijn we begonnen met het rooien van de 9,4 ha aardappelen van het ras Eurostar. Zondagmiddag 15 oktober rond 16.oo uur waren de aardappels eruit. Vrijdag verliep het rooien nog moeizaam. De grond was nog nat. Gelukkig ging het elke dag beter met het rooien.
De aardappels worden gerooid met een aardappelrooier die 2 ruggen aardappels rooit. Voorop de trekker zit een loofklapper die het loof al zoveel mogelijk afklapt. De aardappelrooier zeeft zoveel mogelijk grond en loof uit, voordat de aardappel in de kiepwagen terechtkomt. De kiepwagen neemt de aardappels mee naar het erf. Op het erf worden de aardappels in een stortbak gekiept. De stortbak haalt er ook nog weer veel grond uit. Om kieming van de aardappels te voorkomen worden de aardappels ook nog behandelt met een kiemremmingsmiddel. Het middel wordt verneveld bovenop de aardappels die over de transportbanden gaan. Via  transportbanden gaan de aardappels netjes de bewaring in. Dat laatste gebeurt met behulp van een hallenvuller. Deze kan van links naar rechts zwenken, in- en uitschuiven en van omhoog en naar beneden gaan, zodat de aardappels op de goeie plek komen te liggen. De aardappels worden tot april/mei 2018 bewaard in deze aardappelbewaring. De aardappels hebben als bestemming, friet of export. Ze worden afgenomen door APF Holland BV uit Dronten.
Dit jaar zitten er wel af en toe wat misvormde aardappelen in de partij. Of dat nu komt door het ras of het groeiseizoen is me nog niet duidelijk.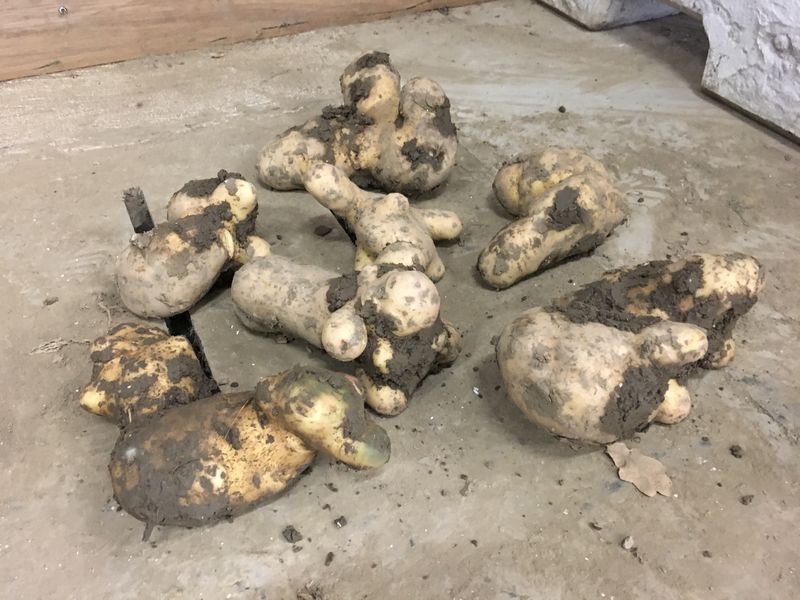 ---
https://www.harrysfarm.nl/wp-farm/uploads/2017/10/Harrysfarm-Swifterbant-Flevoland-15-oktober-2017-aardappel-oogst-rooien-Eurostar-DJI_0575.jpg
450
800
Harry Schreuder
https://harrysfarm.nl/wp-farm/uploads/2018/05/Logo.png
Harry Schreuder
2017-10-15 14:30:10
2018-07-18 11:18:10
Aardappeloogst op Harrysfarm achter de rug