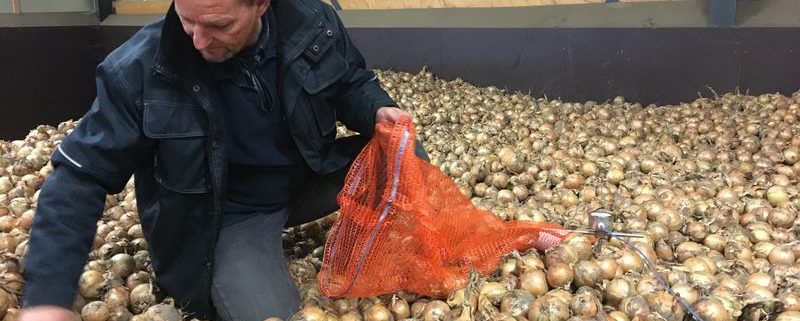 In Beeld, Richard Bolle uiencommissionair
Richard Bolle, kwaliteits controleur en/of commissionair.
In okt 1989 ben ik begonnen als commissionair in Flevoland. Het eerste jaar reed ik met mijn vader Koos Bolle mee om alles te leren. Tijdens de oogst van 1991 zei mijn vader; "Richard hier is mijn auto" (die toen nog een vaste telefoon had), "dit zijn de contracten welke opgehaald moeten worden en dit zijn de transportbedrijven waar de verwerkers zaken mee doen."
Ik had nog weinig kennis van hoeveel uien er op een hectare zaten, maar dit werd na 1 oogst anders. Na vele fouten gemaakt te hebben leerde ik het logistiek te plannen, zo kon mijn vader meer de handel organiseren en ik de logistiek.
De commissionair doet meer dan alleen maar een bonnetje schrijven. Het begint met de juiste rassen kiezen voor de telers, in overleg met de teler bekijken we welke rassen er geschikt zijn voor de grond en de wensen van de teler. Nadat alle uienzaad besteld is, begint het uitleveren en het zaaien. Tijdens het zaaien rijden we rond om te kijken waar er nog zaad nodig is en waar je iemand kan adviseren met het zaaien. Dit gebeurd tussendoor het gewone werk.
Wanneer de eerste uien boven komen, kijken we samen met de teler naar de ontwikkeling van het plantje. In de zomer periode gaan we de telers langs om het product te volgen en kijken we of er ziektes op de loer liggen. Wanneer de oogst voor de deur staat overleggen we met de telers wanneer het beste tijdstip van rooien is, zodat er een goede huidontwikkeling ontstaat in de box. Eenmaal ingeschuurd bekijken we samen met de teler of het product goed indroogt, het droog proces is een zeer belangrijke periode voor de teler. In deze periode kunnen er fouten gemaakt door te kort in te drogen waardoor het product niet goed indroogt en er schimmels in en op kunnen vormen. Hier word de kwaliteit voor een groot gedeelte gevormd. Nadat het product enige weken in de schuur ligt gaan we de grofte van het product bepalen en schatten we in hoe de kleur gaat ontwikkelen.
Ik hanteer de volgende maatstaven:
Slecht 5, gewoon 6, goed 7, mooi 8 en zeer mooi 9. Deze gegevens sla ik op in de computer om hier later de juiste afzet bij te zoeken.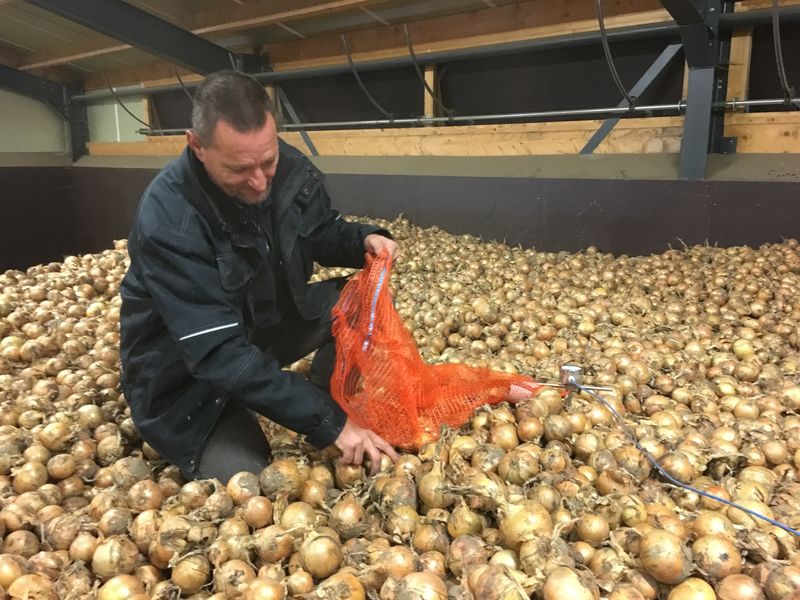 https://www.harrysfarm.nl/wp-farm/uploads/2017/10/Harrysfarm-Swifterbant-Flevoland-8-oktober-2017-uien-Richard-Bolle-commissionair-IMG_9871.jpg
600
800
Harry Schreuder
https://harrysfarm.nl/wp-farm/uploads/2018/05/Logo.png
Harry Schreuder
2017-10-08 19:58:00
2017-10-08 19:58:00
In Beeld, Richard Bolle uiencommissionair