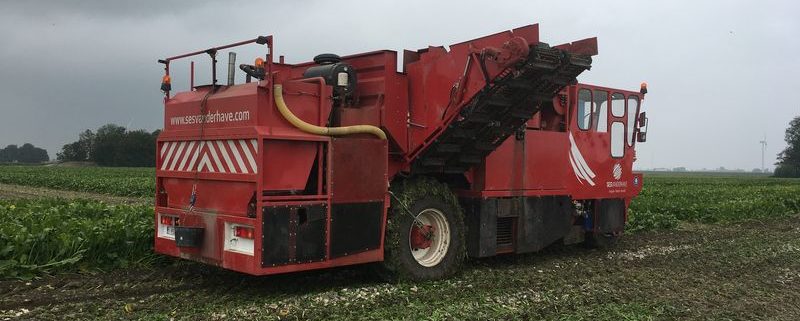 Eerste week proefveld suikerbieten rooien
Suikerbieten zaaizaadfirma SES van der Have is maandag 25 september begonnen met het rooien van het ca. 3 ha groot proefveld met 2800 plots op Harrysfarm. Elke plot is 6 meter lang en 1,5 meter breed. Naast ons bedrijf heeft SES van der Have nog een proefveld in de Noordoostpolder en Biddinghuizen liggen. Verder heeft SES van der Have nog proefvelden in Drenthe, Groningen en in het Zuidwesten van Nederland liggen. Zo worden de diverse proefvelden onder diverse omstandigheden beproefd.
Er word gerooid met een door SES van der Have zelf ontwikkelde bietenrooier. In de bietenrooier worden de suikerbieten gerooid, gewassen, gewogen en geraspt waarna alle gegevens verwerkt worden in een computer. De bietenpulp wordt gecodeerd, ingevroren, en geanalyseerd op verschillende parameters in de kwaliteitslabo's. Het restant van de suikerbieten wordt met een kleine wagen afgevoerd naar een plein waar alle suikerbieten tijdelijk neergestort worden. Deze suikerbieten worden later opgehaald en gaan naar de suikerfabriek.
Er waren tijdens het rooien wel wat diverse storingen waardoor het rooien helaas niet helemaal vlot verliep. Het lukte niet om het proefveld voor de regen eruit te krijgen. Na de 35 mm regen van dit weekend is het rooien even uitgesteld.
---
https://www.harrysfarm.nl/wp-farm/uploads/2017/10/Harrysfarm-Swifterbant-Flevoland-29-september-2017-suikerbieten-oogst-proefveld-SES-van-der-Have-IMG_9764.jpg
600
800
Harry Schreuder
https://harrysfarm.nl/wp-farm/uploads/2018/05/Logo.png
Harry Schreuder
2017-09-29 14:16:37
2018-07-18 11:18:11
Eerste week proefveld suikerbieten rooien