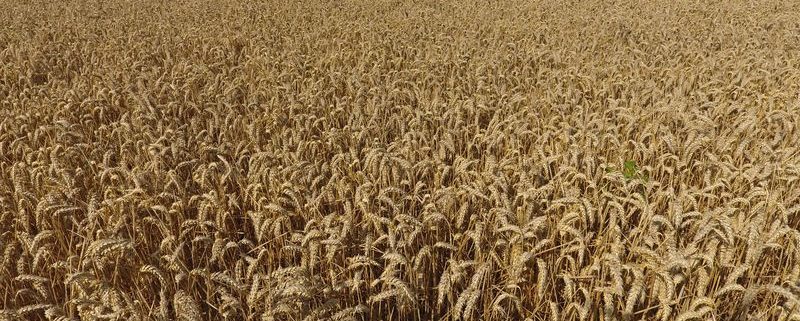 Tarweoogst door regen uitgesteld
Nu eind juli de wintertarwe klaar is om geoogst te worden, is regen nu een spelbreker geworden. De wintertarwe is 2 weken eerder oogstrijp dan in normale jaren. Zaterdagmiddag 22 juli was een kleine kans om een stuk wintertarwe te oogsten, maar dat was maar van korte duur. Bijna elke dag valt er wel wat regen. Dan is het een dag droog, maar dan is het de volgende dag net te nat om de wintertarwe onder droge condities te kunnen oogsten. Tevens heeft het dan alweer wat geregend. Zaterdagavond 29 juli viel er zelfs 35 mm neerslag.
De wintertarwe lever ik aan Agrifirm. Om geen extra droogkosten te ontvangen bij levering is het dorsen van de wintertarwe bij een vocht percentage van 15,5 % of lager ideaal. Daarboven moeten er kosten worden betaald aan Agrifirm. Maar naarmate de tijd verstrijkt wordt de kwaliteit van de wintertarwe ook minder. Je hebt dan meer kans op dat het zogenaamde hectorlitergewicht lager is en dat er schot in de wintertarwe komt. Bij schot gaat de tarwekorrel kiemen. Het is dan soms een keuze ga ik eerder beginnen bij een hoger vocht percentage of wacht ik tot het echt goed droog is, maar dan gaat de kwaliteit achteruit. De komende week hoop ik toch wat wintertarwe te kunnen oogsten, maar dan moet het wel 2 dagen droog zijn. Het weer is de komende tijd nog erg onvoorspelbaar. Word vervolgd.
Hier een link naar de levervoorwaarden van Agrifirm. 
https://www.harrysfarm.nl/wp-farm/uploads/2017/07/Harrysfarm-Swifterbant-Flevoland-24-juli-2017-gewasgroei-aardappelen-suikerbieten-uien-wintertarwe-akkerrand-DJI_0029.jpg
600
800
Harry Schreuder
https://harrysfarm.nl/wp-farm/uploads/2018/05/Logo.png
Harry Schreuder
2017-07-30 13:35:14
2017-07-30 13:36:03
Tarweoogst door regen uitgesteld