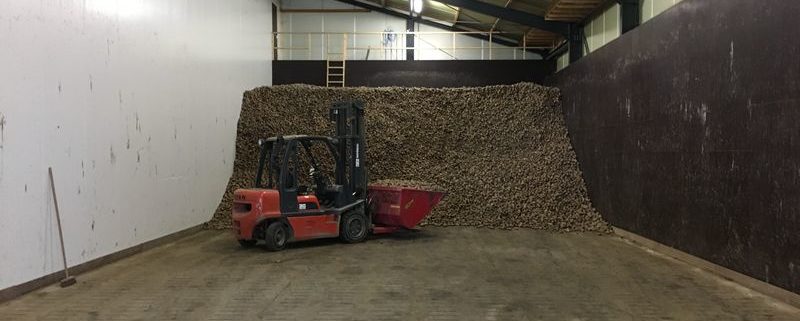 Start zesde editie Harrysfarm Pieperprijsvraag 2017
Woensdagavond 12 juli om 21.00 uur is de zesde editie van de jaarlijkse Harrysfarm Pieperprijsvraag van start gegaan. Via twitter en Facebook hebben inmiddels (tot zondagochtend 16 juli) 448 deelnemers een poging gewaagd om de hoeveelheid aardappels te raden.  Vooral via Facebook (311) veel deelnemers. Op twitter was #pieperprijsvraag woensdagavond even trending topic.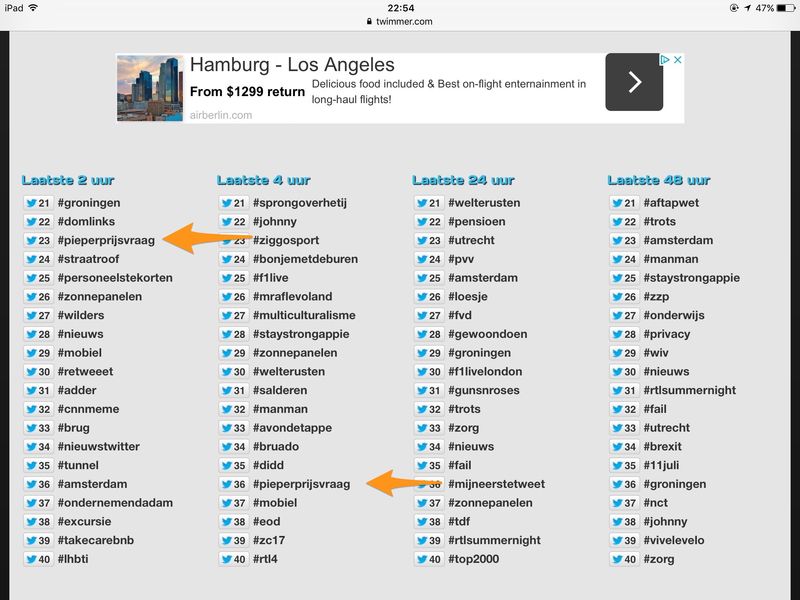 Het is begonnen als ludieke actie maar inmiddels een jaarlijks terugkerend fenomeen. In 2012 ontstond het idee van deze prijsvraag. Elk jaar bij het afleveren van de aardappelen rijzen altijd de vragen: "Kunnen de aardappels nou wel of niet op de vrachtwagen? Moeten we nog een vrachtwagen bestellen of niet?" Uiteindelijk blijft er nog een klein hoopje aardappelen liggen waarvan we zeker weten dat die wel op een vrachtwagen kan. Maar hoeveel ligt er dan? Zelfs als je in real life bij de hoop aardappelen staat is het nog moeilijk inschatten. Dus een foto gemaakt, getwitterd en gevraagd aan de volgers wat zij schatten. De prijs: een bodywarmer met het toen net fonkelnieuwe Harrysfarm logo. Vanaf de derde editie is er ook een grote Harrysfarm Pieperprijsvraag beker te winnen.
De Pieperprijsvraag 2017
Raad op de onderstaande foto's de totale hoeveelheid bruto kilogram aardappelen die nog in de schuur liggen. Bruto wil zeggen, aardappelen incl. iets grond, loofjes, verkeerde aardappelen etc. Hieronder wat belangrijke hints die het raden kunnen vergemakkelijken.
Hint 1: Let op de aardappels in de schepbak en stortbak deze tellen ook mee bij het brutogewicht.
Hint 2: Rond af op 5 of 0 kg. De bruto kilo's worden namelijk afgerond op 5 of 0 kg.
Hint 3: Tussen de 2,5 en 3,5 vrachtwagens lagen er nog.
Hint 4: Deze aardappels zijn in Nederland gebleven.
Wie het dichtst bij de hoeveelheid komt of precies raadt wint een Harrysfarm bodywarmer en de Harrysfarm grote Pieperprijsvraag beker. Natuurlijk komt Harry zelf de prijzen overhandigen.
De uitslag wordt op woensdagavond 19 juli vanaf 21.30 uur op Twitter en Facebook bekend gemaakt.
---
Hieronder de reportages van de laatste 5 winnaars.
https://www.harrysfarm.nl/wp-farm/uploads/2017/07/Harrysfarm-Swifterbant-Flevoland-12-juli-2017-pieperprijsvraag-aardappelen-beker-bodywarmerIMG_7663.jpg
600
800
Harry Schreuder
https://harrysfarm.nl/wp-farm/uploads/2018/05/Logo.png
Harry Schreuder
2017-07-12 20:58:19
2018-07-18 11:18:13
Start zesde editie Harrysfarm Pieperprijsvraag 2017