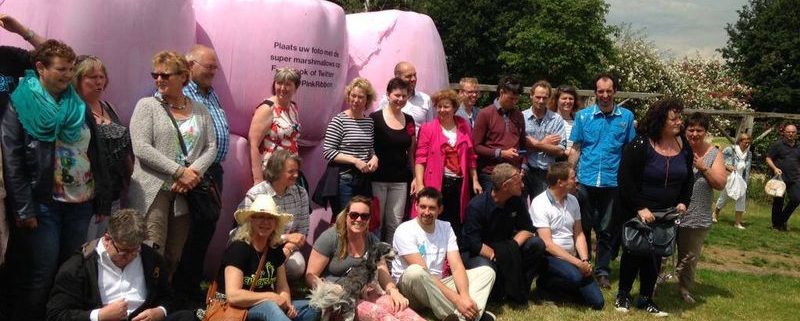 27 juni 2015; boerentweetmeet summer edition
Als Harrysfarm twitterraar zaterdag 27 juni voor het eerst aanwezig geweest bij de tweejaarlijks georganiseerde Boerentweetmeet.
De Boerentweetmeet brengt twitterende boeren bij elkaar om de boer achter het twitteraccount een gezicht te geven en kennis met elkaar te delen. Caroline van der Plas toen redacteur bij Nieuwe Oogst kwam op het initiatief in 2013. Toen werd op zaterdag 29 juni de eerste boerentweetmeeting georganiseerd. Die dag kwamen ongeveer 20 twitterende boeren en boerinnen vanuit het hele land bij elkaar om o.a kennis te delen en te netwerken. Dit allemaal in een gezellige en ongedwongen sfeer. Er worden per jaar 2 Boerentweetmeets georganiseerd. De Boerentweetmeet is zelfs al ontvangen in Brussel en Den Haag.
Zaterdag 27 juni kwamen ca. 40 twitterende boeren en boerinnen bij elkaar in het Twentse Hengevelde waar geitenhoudster Jose Veelers met haar man en hun 3 kinderen en medewerkers een mooi melkgeitenbedrijf heeft. We werden allemaal gastvrij door Jose ontvangen met een lekkere bak koffie of thee met echte Twentse krentewegge. Erg leuk om nu de twitterraars ook eens in het echt te zien en te spreken. Caroline van der Plas opende de dag. Ze heette de ca. 40 boerentwitterraars van harte welkom. Florina Blokland (medeoprichtster van boerentweetmeet ) werd door Caroline in het zonnetje gezet en benoemd als erelid.
---
Na de opening kregen we een rondleiding over het bedrijf van de Familie Veelers. Jose vertelde ons eerst iets over de geschiedenis van het bedrijf en we kregen een bedrijfsvideo te zien.  Op het bedrijf is ook een Rustpunt gevestigd waar men iets kan drinken op het terras of binnen. Men kan er een ijsje of een versnapering kopen.

---
Rond 13.00 uren vertrokken we allemaal in een Boerentweetmeetfile op weg naar de Farm & Country Fair van de familie Ruesink in Aalten. Deze fair is inmiddels al 20 jaar oud en is puur en authentiek opgezet. Meer dan 400 stands met uiteenlopende producten zoals eten, mode, verzorging, tuin etc. Tevens zijn er dierenshows en allerlei andere leuke dingen te zien. Niet voor niks trekken er jaarlijks 40.000 bezoekers richting Aalten om dit 3 daagse evenement te bekijken. Voor binnenkomst eerst nog even een groepsfoto maken. Boer Jos en Dycke, de sterren uit het programma Boer zoekt vrouw waren ook aanwezig op de Fair.
---
De laatste stop op deze prachtige dag was bij Gasterij De Gulle Waard in Winterswijk. Hier konden we buiten op het terras allerlei heerlijkheden gemaakt door Nel Schellekens proeven. Met natuurlijk een borrel erbij. De Gulle Waard is in 2014 uitgeroepen tot Puurste Restaurant van Nederland. Rond half 8 werd het programma beeindigd en keerde iedereen heel enthousiast weer huiswaarts.
https://www.harrysfarm.nl/wp-farm/uploads/2017/03/Harrysfarm-Swifterbant-Flevoland-27juni2015-boerentweetmeet-aalten-10012837_1104532279560358_6541329374185168613_o.jpg
600
800
Harry Schreuder
https://harrysfarm.nl/wp-farm/uploads/2018/05/Logo.png
Harry Schreuder
2015-06-27 16:33:42
2018-07-18 11:18:34
27 juni 2015; boerentweetmeet summer edition