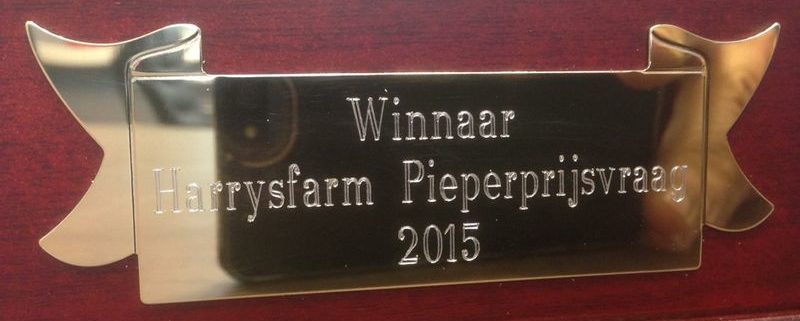 4e editie Harrysfarm pieperprijsvraag 2015
Dit jaar kan iedereen weer meedoen aan de Pieperprijsvraag van Harrysfarm. Inmiddels de vierde editie. Hierboven de videotrailer.
Begonnen als ludieke actie maar inmiddels na 3 jaar een jaarlijks terug kerend fenomeen. Vorig jaar op twitter zelfs even trending topic.
<iframe width="560″ height="315″ src="https://www.youtube.com/embed/IDmNdT5_3_s" frameborder="0″ allowfullscreen></iframe>
---
* Wat houd de pieperprijsvraag ook alweer in ?
Raad op de foto's de totale hoeveelheid bruto kilogram aardappelen die er nog in de schuur liggen. Bruto wil zeggen, aardappelen incl. iets grond, loofjes, verkeerde aardappelen etc. De aardappelen gaan naar Duitsland en kunnen op ca 2-3 vrachtwagens. Zodra bekend is wat de hoeveelheid bruto kilogrammen is stopt de prijsvraag en word de uitslag op een nader te bepalen tijdstip in de avond op twitter en Facebook bekend gemaakt . Het kan nog wel twee weken duren voordat de uitslag bekend gemaakt word, want het wachten is op de definitieve weegbonnen van de afnemer. Doe snel een schatting. Wie er het dichtstbij de hoeveelheid komt of zelfs precies raad wint. Let op !!! Bij een gelijke stand is degene die het eerst geschat heeft de winnaar.
* Hoe kan men meedoen ?
Via twitter kan dat met vermelding hoeveelheid kg aan @harrysfarm met vermelding #pieperprijsvraag . Via de Facebook pagina van Harrysfarm of via email pieperprijsvraag@harr yschreuder.nl
* Wat kan men winnen?
De winnaar wint een Harrysfarm zomerjack. Tevens wint de winnaar de felbegeerde Harrysfarm pieperprijsvraag bokaal. Natuurlijk komt Harry zelf de prijs overhandigen.
---
Er zijn drie verschillende foto's van de hoop aardappelen gemaakt om een betere indruk te krijgen van de hoeveelheid die er nog ligt. Raad de hoeveelheid bruto kg aardappelen. Deze aardappelen worden woensdag 20 mei opgehaald. Het duurt dan nog ca. 1 week voordat de uitslag bekend wordt gemaakt.
---
Hieronder de winnaars van de vorige 3 edities van de Harrysfarm Pieperprijsvraag.
De eerste winnaar van de pieperprijsvraag 2012 kwam uit Swifterbant, de gebroeders Edwin en Wilmar de Lange van Loonbedrijf Gebr. de Lange. 125 mensen deden dat jaar een poging.
In 2013 mocht ik de bodywamer overhandigen aan akkerbouwer Karel Steijaert uit het Zeeuwse Graauw. Een prachtige rit naar Zeeuws Vlaanderen had ik samen met mijn broer Jan er graag voor over. In 2013, 153 deelnemers aan de prijsvraag.
In 2014 een record van 203 pogingen. Voor het eerst kwamen er twee winnaars uit de bus. Allebei zaten ze er maar 10 kg naast. Het te raden gewicht was 26240 kg. 1 winnaar kwam dit jaar uit Biddinghuizen (Flevoland) . De winnaar is Robert Stokman, die een mooi akkerbouwbedrijf heeft bij Almere en Biddinghuizen. Na de uitreiking onder het genot van een bakkie koffie nog nagepraat. De tweede winnaar kwam uit het Zeeuwse Zierikzee, Henk de Vlieger. Henk is werkzaam bij Mol Agrocom te Oude Tonge . Mol Agrocom is een particulier toeleveringsbedrijf voor de agrarische- en groenvoorzieningsector in Zuidwest-Nederland. Henk is daar adviseur akkerbouw en teamleider.
https://www.harrysfarm.nl/wp-farm/uploads/2017/03/Harrysfarm-Swifterbant-Flevoland-30april2015-aardappelen-pieperprijsvraag-IMG_9220.jpg
600
800
Harry Schreuder
https://harrysfarm.nl/wp-farm/uploads/2018/05/Logo.png
Harry Schreuder
2015-05-05 09:24:26
2018-07-18 11:18:35
4e editie Harrysfarm pieperprijsvraag 2015