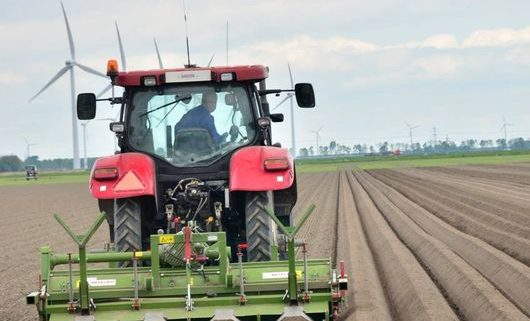 1,2 en 3 mei 2014; aardappelruggen frezen
1,2 en 3 mei zijn de aardappelruggen zijn opgefreesd. Met frezen word de aardappelrug die na het poten is ontstaan verder opgebouwd, zodat de later in de rug gegroeide aardappelen genoeg ruimte hebben om te groeien en niet groen kunnen worden.
Er zijn verschillende redenen waarom de teelt van aardappelen op ruggen plaatsvindt en niet vlakvelds: Het rooien is eenvoudiger omdat er minder grond hoeft te worden opgenomen en uitgezeefd. Mechanische onkruidbestrijding is effectiever. Ook wat grotere onkruiden kunnen tijdens de rugopbouw met grond worden bedekt. Bij wateroverlast is er een geringere kans dat de knollen gaan rotten. Vooral snelgroeiende knollen kunnen bij temperaturen boven 18°C en onder zuurstofarme omstandigheden binnen één of enkele dagen verrotten. (Bron: Kennisakker)
Met de trekker van mijn collega die op smalle banden staat frees ik de ruggen. Doordat nogal aardig wat grond verzet word tijdens het frezen is de snelheid laag, tussen de 2,2 en 2,7 km/uur.
Ruggen moeten uniform van grootte en vorm zijn. De flanken van de rug moeten bol zijn opdat de rug niet gemakkelijk afspoelt. De top moet vlak of iets puntig zijn, niet komvormig, zodat sporen van ziekteverwekkers zoals Phytophthora minder gemakkelijk met regenwater in de rug spoelen en de knollen besmetten. Bij grote ruggen is de kans op groene knollen iets geringer dan bij kleinere ruggen. Wellicht kan ook een rugvorm met een brede bovenkant, de zogenaamde plateaurug, hiertoe bijdragen. (bron:kennisakker.)
De frees heb ik samen met mijn collega in beheer. De frees word ook nog verhuurd aan een andere collega. Totaal word er ca. 32 ha met deze machine gefreesd. De frees is een Baselier. De freeshaken die met grote snelheid ronddraaien zorgen er voor dat de grond voldoende fijn gemaakt word. Achter de frees maken de rugvormers de rug mooi af.
Frezen aardappelen op Harrysfarm 2 mei 2014 from Harry on Vimeo.
https://www.harrysfarm.nl/wp-farm/uploads/2017/03/Harrysfarm-Swifterbant-Flevoland-12en3mei2014-aardappels-ruggen-frezen-Baselier-_1.jpg
800
530
Harry Schreuder
https://harrysfarm.nl/wp-farm/uploads/2018/05/Logo.png
Harry Schreuder
2014-05-03 11:46:22
2018-07-18 11:18:43
1,2 en 3 mei 2014; aardappelruggen frezen