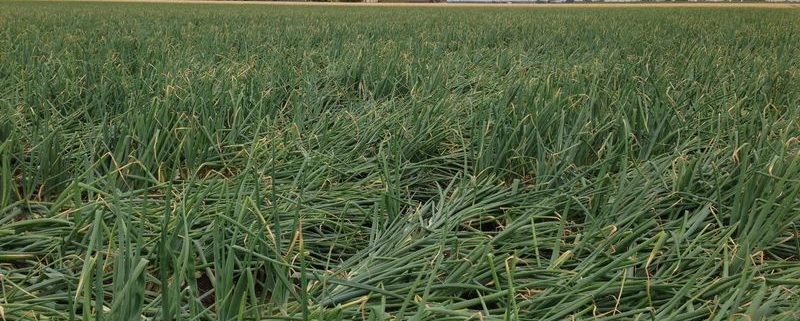 8 augustus 2013; antispruitbehandeling uien
Donderdagavond onder perfecte weersomstandigheden een antispruitbehandeling uitgevoerd in de uien.
Omdat ik de uien zelf bewaar is het wel belangrijk dat tijdens de bewaring van de uien in de uienopslag de uien niet gaan kiemen. Omdat te voorkomen krijgen de uien tijdens het groeiseizoen een antispruitbehandeling. Ongeveer 90 % van de uien in Nederland worden geexporteerd over de hele wereld. Afhankelijk van de bestemming zijn ze lang onderweg . Ze liggen in containers op een vrachtschip of in een vrachtwagen. De koper van de uien wil wel dat de ui nog van mooie kwaliteit is en niet dat er allerlei kiemen uit de uien komen. Een antispruitbehandeling is daarom erg belangrijk. Een antispruitbehandeling in de uien word uitgevoerd als het gewas begint te strijken. Dit vindt meestal plaats vanaf eind juli tot begin augustus. Het strijken van de uien wil zeggen dat het uienloof wat eerst nog recht overeind staat langzaam gaat liggen. De verhouding nek/bolverhouding is ook bepalend. Deze moet minimaal 1:3,5 zijn. In deze periode is het moment om een antispruitbehandeling uit te voeren. Spuit je vroeger dan is er een kans op holle uien of losse rokken. Bij later spuiten is de opname minder en dan is de kans groter dat de uien eerder gaan kiemen en dus eerder verkocht moeten worden. Met de spuitmachine word het middel opgebracht. Het antispruitmiddel heeft minimaal 2 weken nodig om volledig door de bol opgenomen te worden. Na de bespuiting moet het ook nog 10 uur droog zijn. Niet elk jaar zijn de omstandigheden om te spuiten ideaal. Eind november word er voor de zekerheid nog een kiemproef gedaan. Door wat uien in een kistje met grond in een warme omgeving te zetten kan men na een tijdje zien of de uien kiemlustig zijn. Die uitslag kan van invloed zijn op het verkoopmoment van de uien.
https://www.harrysfarm.nl/wp-farm/uploads/2017/02/Harrysfarm-Swifterbant-Flevoland-8augustus2013-MH-bespuiting-antispruit-uien-IMG_3334.jpg
600
800
Harry Schreuder
https://harrysfarm.nl/wp-farm/uploads/2018/05/Logo.png
Harry Schreuder
2013-08-08 08:04:01
2017-02-22 08:05:31
8 augustus 2013; antispruitbehandeling uien