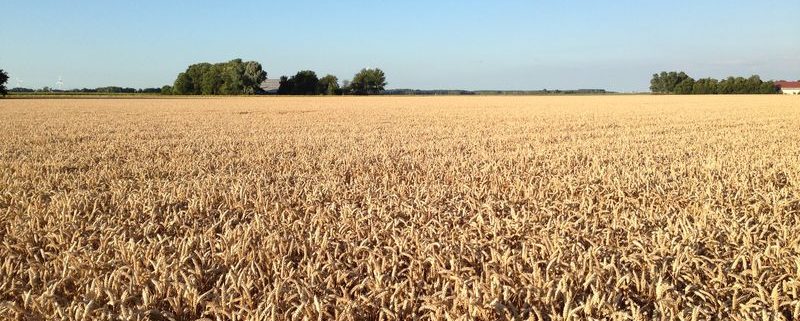 4 augustus 2013; wintertarwe oogst is nabij
Door de droge, warme julimaand word de wintertarwe nu snel rijp. Leek het eind juni er niet op dat we begin augustus al kunnen oogsten, door de warne julimaand en de eerste dagen van augustus is de tarwe een inhaalslag aan het maken. De eerste vroeg gezaaide wintertarwe werd gisteren in de buurt al geoogst. Komende dagen maar geregeld in het perceel tarwe kijken of de tarwe oogstklaar is. Het oogsttijdstip is afhankelijk van het vocht gehalte van de korrel. Het mooiste is dat deze rond de 16 % of lager ligt. Bij dit vocht % is de wintertarwe het beste te bewaren. Door uit het perceel wintertarwe wat aren te plukken en daar vervolgens de korrels uit te wrijven kunnen we het vocht gehalte laten bepalen bij een vestiging van Agrifirm. Deze hebben ge-ijkte vochtmeters. Bij een te hoog vocht gehalte betalen we droogkosten aan de afnemer.
Onze wintertarwe word afgezet aan afnemer Agrifirm. Bij Agrifirm heb ik het graan in de basispool zitten.
Na ontvangst zorgt Agrifirm Plant voor drogen, conditioneren en bewerken van het product, zodat het product gespreid over het seizoen kan worden afgezet. Agrifirm Plant treedt op als poolbeheerder en zorgt voor regie en beheer van de afzet gedurende het gehele afzetseizoen.
Aan het einde van het seizoen worden alle gemaakte kosten en opbrengsten verdeeld over de totaal afgezette productstroom en ontvangen we, net als de andere pooldeelnemers, een gemiddelde van die opbrengstprijs.(Bron:Agrifirm)
Nu maar hopen dat het nog even droog blijft zodat de wintertarwe oogst voorspoedig kan verlopen.
https://www.harrysfarm.nl/wp-farm/uploads/2017/02/Harrysfarm-Swifterbant-Flevoland-4augustus2013-wintertarwe-IMG_3307.jpg
600
800
Harry Schreuder
https://harrysfarm.nl/wp-farm/uploads/2018/05/Logo.png
Harry Schreuder
2013-08-04 07:55:09
2017-02-22 07:56:30
4 augustus 2013; wintertarwe oogst is nabij