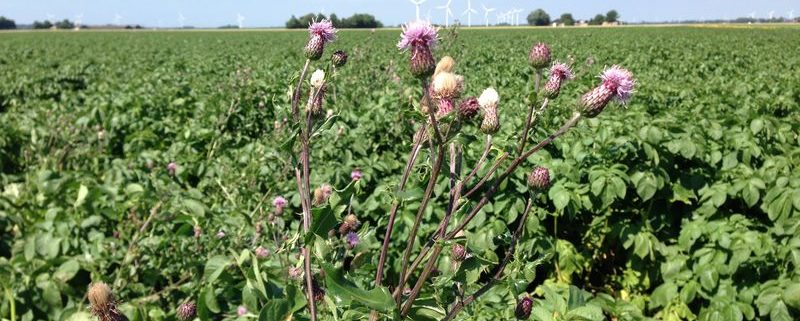 1 augustus 2013; distels te lijf
Tussen de aardappels staan dit jaar pleksgewijs wat distels. Deze heb ik grotendeels bovengronds verwijdert. (op de foto: de akkerdistel). De distels staan nu volop in bloei en sommige vormen al zaad. Een distel is voor de akkerbouwer een erg lastig te bestrijden onkruid. Omdat ze ondergronds via zogenaamde wortelstokken verder groeien. Weghakken helpt vaak ook niet. Hak je 1 wortelstok in 2 stukken dan groeien er daarna 2 distels uit. Door constant terug te komen met de hak word de wortelstok van de distel wel verder uitgeput. Maar elk jaar vind je ze dan toch weer terug op de akker. Distel is een onkruid dat grote problemen kan veroorzaken. Deze wortelt diep en vormt veel wortelstokken. Bovendien kunnen de distels zich via de wortelstokken vermeerderen, omdat stukjes wortel door grondbewerking worden verspreid over een perceel. Deze wortelstukjes bevatten vrijwel altijd knoppen die uitlopen en nieuwe distelplanten vormen (vegetatieve vermeerdering). Wanneer distelzaailingen zich toch op het perceel hebben gevestigd en zijn uitgegroeid tot planten, kunnen ze wortelstokken (rhizomen) gaan vormen.
Vermeerdering van planten
Mechanische bewerkingen kunnen als zij niet op het juiste tijdstip worden uitgevoerd en/of gevolgd worden door regen juist tot vermeerdering van de (akker)distelplanten leiden. De wortelstukjes krijgen de kans om op de ogen uit te lopen. In het groeiseizoen van het gewas betekent dit herhaald schoffelen als de gemiddelde akkerdistelplant ongeveer 7-8 centimeter hoog is. Dit komt overeen met zes tot acht bewerkingen per jaar.
Uiteraard kunnen bij goed drogend weer ploegen en/of stoppelbewerking in het voor- en/of najaar ook een bestrijdend effect hebben. Wanneer de eerste bloemknoppen beginnen te verkleuren kan de berm of de strook naast de natuurrand het best worden gemaaid. Er mogen geen nieuwe open kiemplekken ontstaan.
Levensvatbaar
Van bijvoorbeeld 100.000 zaadpluisjes bevatten er slechts 20.000 een zaadje.
Van deze 20.000 zaadjes zijn er 4.000 tot 8.000 levensvatbaar.
Daarvan zullen alleen bij hoge windsnelheden (krachtige wind, meer dan 5 beaufort) 40 tot 400 zaadjes verder dan 50 meter vanaf de moederplant worden verspreid.
Van deze 40 tot 400 zaden maken er 2 tot 48 zaden kans om te kiemen, mits zij in braakliggende grond terechtkomen. Als er een gewas staat, is de kans dat een kiemplant tot een volwassen plant uitgroeit lager. (Bron: Akkerwijzer )
Chemisch kunnen de distels ook bestreden worden maar dan moeten alle omstandigheden meezitten. In wintertarwe of later in een grasgroenbemester kunnen distels goed bestreden worden. Dit probeer ik dit jaar ook te doen. Maar door het wegvallen van sommige chemische bestrijdingsmethoden is het steeds moeilijker om ze zo te bestrijden. Alles moet meezitten. Ik heb de distels uit de aardappels er maar uit gehaald, want het is geen mooi gezicht. Mooi werk is het niet.
https://www.harrysfarm.nl/wp-farm/uploads/2017/02/Harrysfarm-Swifterbant-Flevoland-1-augustus2013-distels-IMG_3298.jpg
600
800
Harry Schreuder
https://harrysfarm.nl/wp-farm/uploads/2018/05/Logo.png
Harry Schreuder
2013-08-01 07:51:47
2017-02-22 07:54:26
1 augustus 2013; distels te lijf