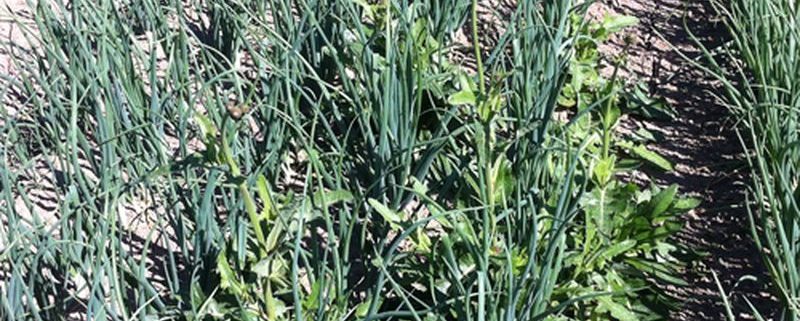 19 juli 2013; uien wieden
Afgelopen week perfecte omstandigheden om de aan de chemische bestrijding onsnapte onkruiden te verwijderen.
De weinig aanhangende grond aan de onkruiden droogt razensnel op, zodat de kans op een nieuwe vochtverbinding met de grond nihil is. Naast de onkruiden hebben we ook een aantal aardappelplanten verwijdert. Deze planten zijn onstaan uit opslagknollen van twee jaar terug. Een lastig te wieden onkruid is kleefkruid, welke pleksgewijs voorkwam en tussen de rijen veelal het gemakkelijkst met de hand uit te trekken is. Met de hak loop je de kans, dat er uien sneuvelen of dat je niet de hele plant wegkrijgt. Het onkruid doet zijn naam eer aan. Op enkele plekken melkdistels verwijderd. Het is belangrijk, dat dit onkruid niet van buitenaf de percelen 'inwaait' via de vederlichte pluizen. Ondergrondse wortelstokken zijn erg moeilijk te bestrijden. De wortelstokken worden bij een mechanische bewerking verkleind en verder over een perceel verspreid. Vanuit een klein stukje wortelstok kunnen nieuwe volwassen planten groeien. Bij teelt van open gewassen, zoals uien heeft de onkruidbestrijding op de tochtwal extra aandacht nodig. Om de zoveel jaar worden de tochten uitgebaggerd en de grond over eerste meters van een perceel verspreid, de 'tochtwal'. Ongewenste onkruiden worden gratis meegeleverd ……. !
Kruiskruid, herderstasje en varkensgras zijn dit jaar op de tochtwal in ruime mate gekiemd en blijkbaar niet volledig te bestrijden met de bodemherbicide. Vooral klein kruiskruid heeft de vervelende eigenschap al in een klein stadium over te gaan tot knopvorming en vervolgens bloemvorming. Deze plant vormt net als de melkdistel superlichte witte vruchtpluizen, die gemakkelijk met de wind worden meegevoerd. In Flevoland lijkt het aantal exotisch planten in de diverse landschappen toe te nemen. De enorme berenklauw is hier een goed voorbeeld van. In het geval van de doornappel kunnen we spreken van een exotisch onkruid, welke sporadisch voorkomt. Via vogels of mest verspreid ?
https://www.harrysfarm.nl/wp-farm/uploads/2017/02/Harrysfarm-Swifterbant-Flevoland-19juli2013-onkruid-wieden-distelplekui.jpg
696
800
Harry Schreuder
https://harrysfarm.nl/wp-farm/uploads/2018/05/Logo.png
Harry Schreuder
2013-07-19 19:26:25
2018-07-18 11:20:29
19 juli 2013; uien wieden