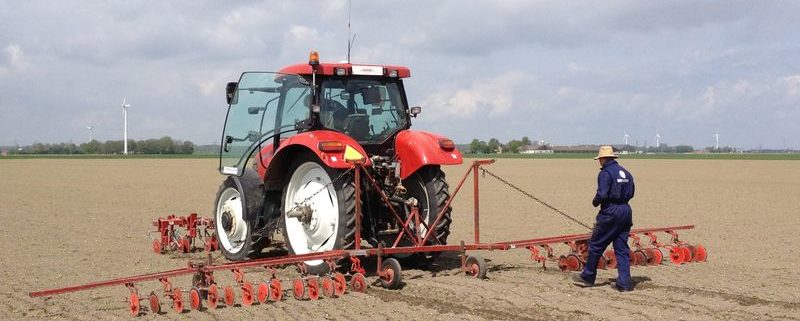 15 mei 2013; suikerbieten dunnen van proefveld
Dinsdag 14 mei zijn er streepjes getrokken door het bietenproefveld van SES van der Have uit Rilland.
Door het trekken van de strepen kan men straks beter dunnen. Het zaad van SES van der Have is zogenaamd naaktzaad. Hier willen nog wel eens een paar gezaaide bietjes dicht naast elkaar opkomen. En dat stoort de groei van elkaar. Tevens worden de bieten door SES van der Have in de rij op 11 cm gezaaid, normaal in de praktijk is dat ca. 20 cm. Maar om een zo gelijkmatig mogelijke opkomst te realiseren en risico's uit te sluiten word dicht in de rij gezaaid. In de praktijk word zogenaamd pillenzaad gebruikt deze is zeer precies te zaaien en hoeft niet gedund te worden. Voorop de trekker zit nog een schoffelgarnituur die door de rijpaden de doorgezaaide bieten wegschoffeld. Met behulp van draaiende schijven worden de strepen getrokken. Leo van SES van der Have loopt achter de machine voor een nacontrole op het werk. 15 mei is personeel van o.a. AB Oost (8 man) aan het dunnen. Personeel van o.a. AB Oost (8 man) en 2 man van SES van der Have hebben in een dag het ca. 1,8 ha groot proefveld gedund. Binnenkort worden er o.a. tellingen gedaan door SES van der Have.
https://www.harrysfarm.nl/wp-farm/uploads/2017/02/Harrysfarm-Swifterbant-Flevoland-15mei2013-suikerbieten-proefveld-dunnen-IMG_2656.jpg
600
800
Harry Schreuder
https://harrysfarm.nl/wp-farm/uploads/2018/05/Logo.png
Harry Schreuder
2013-05-15 08:25:03
2018-07-18 11:20:30
15 mei 2013; suikerbieten dunnen van proefveld