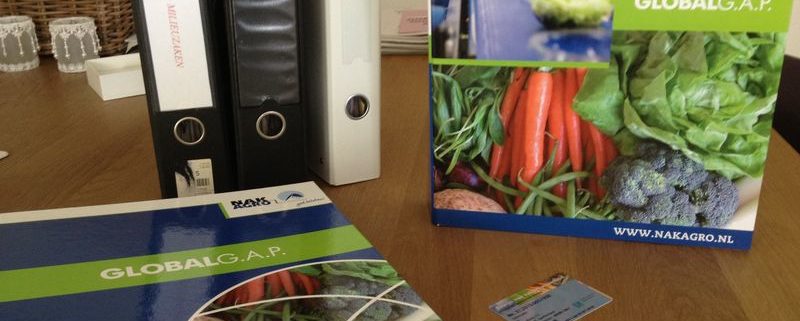 15 mei 2013; Globalgap inspectie
Woensdagmiddag 15 mei om 13.00 uur heb ik een Globalgap inspectiebezoek gehad van NAKagro uit Emmeloord.
Een inspecteur van NAK Agro heeft de inspectie gedaan en op wat opmerkingen na heb ik weer voor een jaar het Globalgap certificaat voor de gewassen aardappelen en uien. Toonaangevende supermarktketens vereisen GLOBALGAP-certificering.
GLOBALGAP is een productiestandaard voor de primaire producent. GLOBALGAP IFA (Integrated Farm Assurance) is de standaard voor telers die al hun akkerbouwgewassen onder 1 certificaat willen brengen. Het certificaat is een bevestiging van een voedselveilige en maatschappelijk verantwoorde productiewijze. Hiermee wordt voldaan aan huidige afnemerseisen. (Bron: Nakagro)
Eens per jaar is er inspectie door NAKagro op mijn bedrijf. Deze is dit jaar 15 mei. Om voor certificering in aanmerking te komen moet aan de eisen worden voldaan, gesteld in de telershandleidingen van het betreffende voedselveiligheidscertificaat. Het eisenpakket is gebaseerd op een risicoanalyse. Per stap in het teelt-/productieproces zijn de risico's benoemd en is aangegeven welke maatregelen nodig zijn om deze risico's te beheersen. De onafhankelijke controle door NAK AGRO is gericht op het vaststellen of tijdens het productieproces daadwerkelijk de noodzakelijk geachte (preventieve) beheersmaatregelen in voldoende mate zijn genomen. (Bron: Nakagro).
Elk jaar moet er een zogenaamde zelfbeoordelingslijst ingevuld worden. Dit is een behoorlijk boekwerk met vragen die met ja, nee of met niet van toepassing beantwoord moeten worden. Tevens moet er bij sommige vragen ook een reden van waarom ingevuld worden.
Elke vraag heeft een bepaald niveau. Je hebt er drie namelijk: major, minor en aanbevolen. Alle vragen met major moeten met ja beantwoord worden. Heb je 1 vraag niet goed dan krijg je geen Global certificaat. Bij minor mag je er nog een aantal missen (ik meen van rond de 95 % moet je halen). Aanbevolen vragen hoef je niet te halen. Op het bedrijf moet bijvoorbeeld een oogdouche aanwezig zijn. Alleen deze heeft een houdbaarheidsdatum. Die van mij was van 2002, een beetje verlopen dus. Dit was een minor vraag en dit is dus een minpuntje. Gelukkig kon ik deze hebben. Inmiddels staat de oogdouche in bestelling. Ook zal ik weer een BHV cursus moeten volgen, want deze was ook al verlopen. In deze lijst staan heel veel vragen die je moet beantwoorden. Vragen gaan over teelthistorie, traceerbaarheid, hygieneregels, riscioinventarisatie, milieuzaken, teeltregistratie, oogst, risicoanalyse, ongedierte bestrijdingspla, klachtenformulier, etc.
Voorraden van middelen,meststoffen moeten goed worden bijgehouden. Je moet je houden aan de veiligheidstermijn van middelen.
Er moet een beleidsplan natuurbeheer op het bedrijf zijn. Genoeg dingen om op te noemen. Het is niet mijn hobby. Op dit moment zijn onze gewassen uien en aardappelen gecertificeerd. De tarwe en suikerbieten hebben een apart certificaat, dat heet het voedselveiligheid certificaat. Doordat ik vroeger tafelaardappelen teelde ben ik met Globalgap begonnen, want tafelaardappelen gaan naar de supermarkt en vooral de supermarkten eisen Globalgap. Later heb ik uien en winterpeen er aan toegevoegd. Nu teel ik fritesaardappelen die hebben geen globalgap certificaat nodig maar omdat ik dit nu toch al goed voor elkaar heb stop ik er niet mee, alhoewel ik wel vaak twijfel want het kost elk jaar wel weer een aantal honderden euros. Fritesaardappelen kunnen ook net zoals suikerbieten en granen aan een voedselveiligheidscertificaat voldoen en dat is makkelijker en goedkoper.
Voorlopig heb ik besloten om met Globalgap verder te gaan.
https://www.harrysfarm.nl/wp-farm/uploads/2017/02/Harrysfarm-Swifterbant-Flevoland-15mei2013-globalgap-inspectie-IMG_2669.jpg
600
800
Harry Schreuder
https://harrysfarm.nl/wp-farm/uploads/2018/05/Logo.png
Harry Schreuder
2013-05-15 08:46:04
2017-02-21 08:48:17
15 mei 2013; Globalgap inspectie