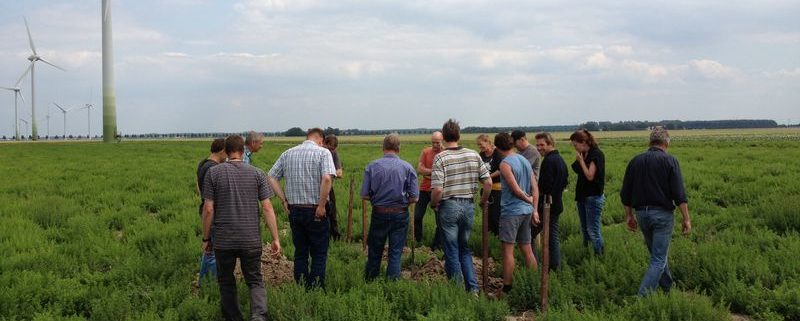 8 juli 2012: cursus bodem in zicht
Dinsdag 3 Juli hebben we met mijn Veldleeuwerik groep een cursus bodem in zicht gehad . Een erg leerzame middag was dat. Onder leiding van bodemdeskundige Coen ter Berg  is er bij een teler in de groep een profielkuil gegraven van ca. 1 meter diep. De bedoeling is dat we deze kuil en de grond die eruit komt gaan beoordelen. Voorafgaand aan het beoordelen van de kuil is er in de schuur van de teler onder het genot van een kopje koffie/thee en koek eerst een presentatie gehouden over allerlei aspecten wat verband houd met de bodem.
Bodemdeskundige Coen ter Berg laat een deel van de bouwvoor uit deze profielkuil zien. Er word gekeken of de wortels mooi door de grond lopen, of er genoeg porien te zien zijn en wat voor soort grond het is. Zit er een storende laag die de wortelgroei vertraagd . Is de grond mooi kruimelig etc. Zien we bodemleven, zoals bijvoorbeeld wormen.
De grond  die we beoordeelt hebben kwam  uit een perceel oregano. Een kruidengewas dat een aantal jaren staat . Het bleek dan ook wel dat de structuur van deze grond erg goed was. We hebben ook nog even in een perceel tarwe een kuil gegraven. En dan blijkt wel hoe belangrijk dit gewas voor ons is als akkerbouwer. De wortels van de tarwe gaan wel tot een meter diep de grond in. Het volggewas heeft een jaar later hier weer profijt van.
Tijdens deze middag werd ook heftig gediscusseerd over o.a. wel of niet woelen, hoe diep woelen, wat voor schade geeft het ja of nee. Welke gewassen, groenbemesters zijn wel of niet goed voor de grond. Insporing van machines. Er is heel veel te vertellen over de bodem en het is dan ook 1 van de belangrijkste schakels voor een goeie opbrengst als akkerbouwer. We moeten zuinig zijn op de grond, zo kunnen de wortels van de gewassen ongestoord groeien en word het bodemleven ook goed bevordert. Eigenlijk weten we dat ook wel als akkerbouwer maar we worden er nu door tips en trucs van de bodemdeskundige nog even weer mee geconfronteerd. Het was een hele inspirerende middag als Veldleeuwerik teler.
https://www.harrysfarm.nl/wp-farm/uploads/2017/01/HarrysFarm-Swifterbant-Flevoland-8juli2012-IMG_0832.jpg
600
800
Beheer
https://harrysfarm.nl/wp-farm/uploads/2018/05/Logo.png
Beheer
2012-07-08 15:16:52
2017-01-22 15:42:19
8 juli 2012: cursus bodem in zicht