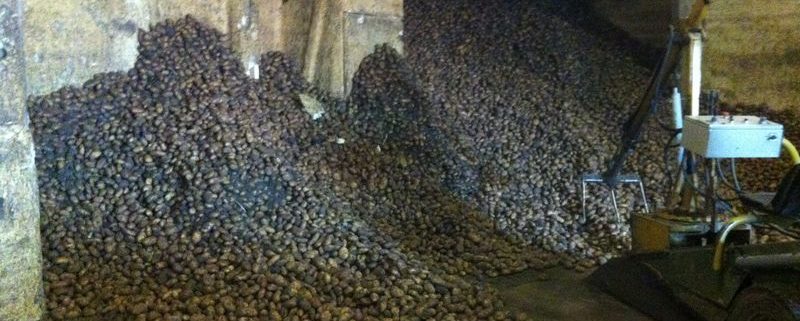 Prijsvraag aardappels afleveren
De aardappels zijn inmiddels afgeleverd. De laatste vrachtwagen heeft vanmorgen 10 mei het erf verlaten. Nu weer wachten op de nieuwe oogst. Gisteravond ben ik op twitter gestart met een prijsvraag over deze hoop aardappelen op de foto.
aak is het altijd weer moeilijk inschatten door iedereen hoeveel aardappelen er nog liggen en of ze op 1 vrachtwagen kunnen. Ik kwam toen op het idee om een prijsvraag te starten en te vragen: Weten jullie hoeveel kilogram aardappelen hier nog in de bewaring liggen op bovenstaande foto???? Via twitter al meer dan 50 pogingen binnen van twitterraars. Ook voor de trouwe website bezoekers van Harrysfarm de mogelijkheid om ook een gok te doen. Degene die er het dichtsbij in de buurt komt wint een mooie Harrysfarm bodywarmer.
Reageer hieronder via de onderstaande reageer link of mail mij via: info@harrysfarm.nl Inmiddels hebben 122 mensen een poging gedaan om het gewicht te raden. Vanavond 16 mei rond 21.00 uur maak ik via twitter (www.twitter.com/harrysfarm) de winnaar bekend. Tot 21.00 uur kan men nog een poging doen. Succes met raden.
https://www.harrysfarm.nl/wp-farm/uploads/2017/01/HarrysFarm-Swifterbant-Flevoland-20mei2012-IMG_0546.jpg
597
800
Beheer
https://harrysfarm.nl/wp-farm/uploads/2018/05/Logo.png
Beheer
2012-05-10 20:16:20
2017-01-20 20:55:28
Prijsvraag aardappels afleveren