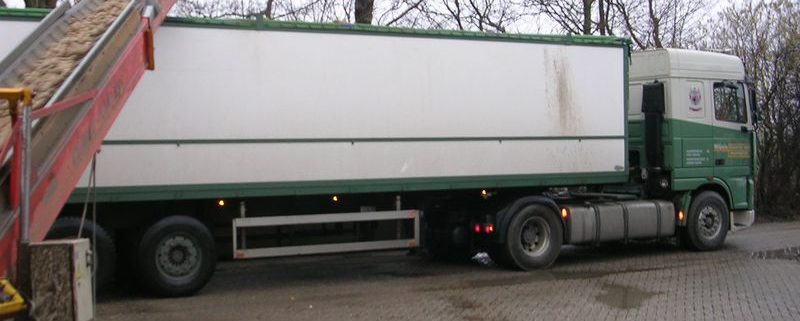 8 februari 2009; 3 auto's aardappels afgeleverd. Milieucontrole gehad
Aanstaande woensdag gaan er 3 vrachtwagens aardappels weg. APF Holland heeft deze aardappels nodig voor een fritesfbriek van Aviko in Duitsland. De aardappels bakken zeer goed. Deze week is er een vrachtwagen met bigbags kunstmest gebracht. Het bemestingsplan heb ik voor 2009 gemaakt. Voor 2009 heb ik de hele voorraad inmiddels staan.
Vanuit de Gemeente Dronten heeft ons bedrijf een milieucontrole gehad. Er wordt o.a. gecontroleerd hoe het bedrijf omgaat met gevaarlijke stoffen en of we de milieuregels goed naleven.
Bijvoorbeeld of de bestrijdingsmiddelenopslag voldoet aan de eisen. Hoe de opslag van olie, dieselolie en propaangas is geregeld.
Voldoe je niet aan de deze regels dan is er een termijn voor om deze punten te verbeteren. Een paar kleine dingen op ons bedrijf moet nog verbetert worden, zoals een noodplansticker op de propaangastank en de gaskachels en gasleidingen moeten gekeurd worden door een erkend bedrijf.
https://www.harrysfarm.nl/wp-farm/uploads/2017/02/HarrysFarm-Swifterbant-Flevoland-2maart2007-aardappelafleveren-DSCN2228-.jpg
600
800
Harry Schreuder
https://harrysfarm.nl/wp-farm/uploads/2018/05/Logo.png
Harry Schreuder
2009-02-08 09:18:07
2017-02-09 09:22:13
8 februari 2009; 3 auto's aardappels afgeleverd. Milieucontrole gehad