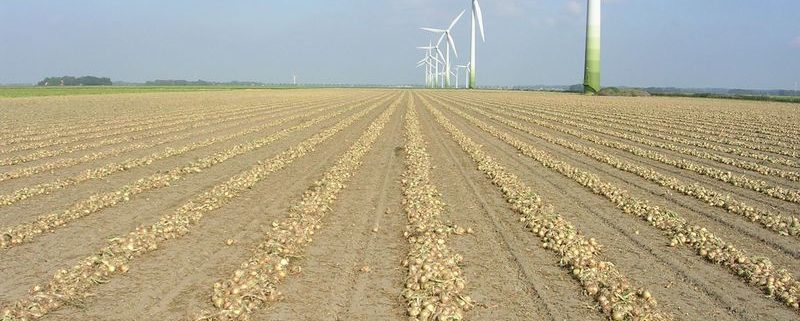 Gisteren en vrijdag de vroege uien (Barito) gerooid. Het rooien ging goed. De uien moeten nog een tijdje op het land liggen te drogen voordat ze opgeladen kunnen worden. Morgen of overmorgen ga ik de Balditos ook rooien. De groei is er uit. Alle uien gaan afland weg. Door de grote verschillen in het Baldito (veel natte plekken) perceel zie ik het niet zitten om ze dit jaar te bewaren.
De aardappels sterven nu ook hard af. Het loof van de Bildtstar heb ik vrijdagmiddag doodgespoten. De Zorbas zijn maandag of dinsdag aan de beurt.
De opbrengstverwachting is zeer matig. De overvloedige regen hier in juli heeft de aardappels flink teruggezet. Van de Zorbas verwacht ik een opbrengst van ca. 40 ton/ha. Van de Bildtstar, die op iets betere grond staan, 45 ton/ha. Normaal kunnen er hier toch opbrengsten van 50-60 /ha gehaald worden.
https://www.harrysfarm.nl/wp-farm/uploads/2017/02/HarrysFarm-Swifterbant-Flevoland-26augustus2007-uiengerooid-DSCN3397-.jpg
600
800
Harry Schreuder
https://harrysfarm.nl/wp-farm/uploads/2018/05/Logo.png
Harry Schreuder
2007-08-26 20:16:28
2017-02-04 20:20:20
26 augustus 2007