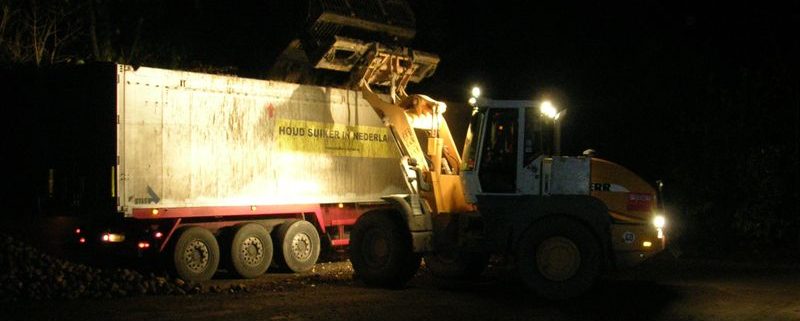 2 december 2005: Donderdagavond 1 december zijn dan de laatste suikerbieten opgehaald. 10 vrachtautos zijn er opgehaald en naar de suikerfabriek van Suiker Unie in Groningen gebracht. Het werd tijd dat ze opgehaald werden want de bieten begonnen in de hoop al wat uit te lopen. Ze waren 1 november al gerooid en de zachte novembermaand bevorderde de groei ook. Het suikergehalte zal iets gezakt zijn denk ik.  De laatste week was nog wel spannend, de suikerbieten wel of niet afdekken. Elke dag goed naar het weerbericht luisteren of er ook vorst op komst is en een rondje door de weg rijden of er al andere boeren de bietenhoop hadden afgedekt. Gelukkig was het niet nodig.

Het erf heb ik inmiddels weer schoongemaakt zodat we weer normaal zonder te struikelen over een biet of uitglijden door modder over het erf kunnen lopen.
Aanstaande maandag ga ik 2 autos uien afleveren. Deze had ik in juli al verkocht voor 8 eurocent/kg.
De prijzen van de uien zijn nu inmiddels gezakt naar ca. 6-7 eurocent/kg.
Dinsdag gaat er nog 1 auto weg. Er blijft ca 200 ton uien zitten totdat de prijzen weer wat beter worden.
11 december 2005: Maandag 5 december zijn de 3 autos uien (totaal ca. 100 ton) afgeleverd. Deze had ik al verkocht. Inmiddels heb ik ook het restant van de uien verkocht. Deze gaan rond de kerstdagen weg.
De uien heb ik verkocht aan R J Bolle commissiehandel uit Biddinghuizen. De uien gaan naar Vos uit Wijk bij Aalburg. De kwaliteit van de uien is zeer goed. Alhoewel de prijzen voor de uien niet echt goed is heb ik ze toch verkocht. Ik zie voorlopig nog geen opleving in de markt. Vooral omdat er te weinig word geexporteerd. En er nog steeds veel uien geoogst zijn afgelopen jaar. Maar met uien weet je het nooit. Over enkele maanden weet ik of ik het goed of fout heb gedaan. Ondanks dat de suikerbieten een maand op het erf hebben gelegen, was het suikergehalte gestegen. Gemiddeld rond de 18,5 % met 1 uitschieter naar 19,1 %. Over alle geleverde bieten kom ik op netto 78 ton/ha met 18,3 % suiker en 91,9 Winbaarheid. Het tarra % was 13 %.
18 december 2005: Nog een weekje en dan is het al weer kerst en gaan we een nieuwjaar tegemoet. Zo'n jaar gaat toch weer snel voorbij. Voordat je het weet ben je alweer aan het zaaien en poten. Voor die tijd moeten er in de winter nog wat dingen gedaan worden en beslissingen genomen worden. Zoals het onderhoud van de machines, en het bouwplan voor 2006 invullen. Dat laatste ben ik nu mee bezig. Komend jaar krijg ik weer stamslabonen en waarschijnlijk zomergerst en misschien nog een nieuw gewas. Het areaal uien gaat terug van 8,3 ha naar 5 ha. Dit omdat ik met de percelen aan het omschakelen ben van 1op 4 naar 1 op 5.
Tevens ben ik bezig om het aardappelareaal in te vullen. Zeker is dat ik weer een paar ha Bildstar ga poten. Voor de andere ha's ben ik nog bezig. Waarschijnlijk geen Bintje.
Er komen ook weer nieuwe regelingen op ons af, zoals een andere mestwetgeving, het nieuwe suikerbeleid en de toeslagrechten. Genoeg dingen om de winter mee door te komen.
https://www.harrysfarm.nl/wp-farm/uploads/2017/01/HarrysFarm-Swifterbant-Flevoland-2december2005-bietenleveren-DSCN1077-.jpg
600
800
Harry Schreuder
https://harrysfarm.nl/wp-farm/uploads/2018/05/Logo.png
Harry Schreuder
2005-12-18 09:08:52
2017-01-25 16:59:12
December 2005