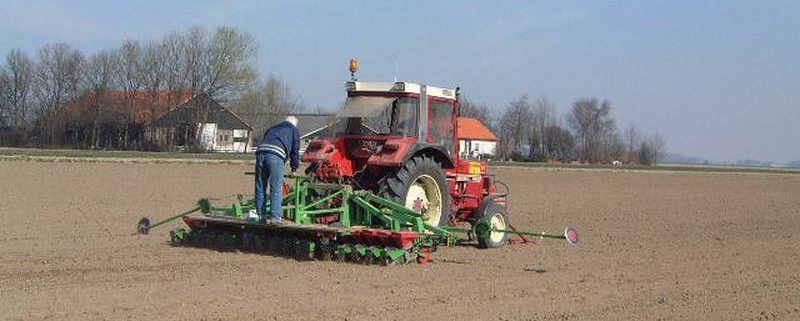 10 maart 2002: De stikstofvoorraad in het aardappel- en bietenland is na monstername ook laag. In het bietenland zat nog 12 kg N en in het aardappelland 28 N. De grond begint na het drogende weer al aardig op te drogen. Wie weet komende week uienzaaien? Afgelopen vrijdagmiddag (8-03) heb ik 400 kg KAS op het wintertarweland gestrooid. De wintertarwe was er wel aan toe. De kleur van de wintertarwe was niet zo groen meer. Ik had eerder die week al kunstmest in bigbags van 500 kg laten bezorgen door Agrifirm.
17 maart 2002: De maand Maart is tot dusver goed drogend verlopen. Op een paar dagen na met 3-4 mm water is de grond goed aan het opdrogen. Een vast tafereel is dan ook regelmatig op het land kijken of de grond al goed genoeg is om te zaaien. Tevens even naar het kavelpad lopen en kijken of er al andere boeren op het land bezig zijn. En zo was het dan ook dat vooral gisteren (16-03) veel boeren al aan het uienzaaien waren. Zelf was ik van plan om maandag (18-03) of dinsdag (19-03) uien te gaan zaaien maar door de regen van vandaag en de voorspelling van de komende dagen lijkt dit niet te gaan lukken. Echt mooi is de structuur van de grond niet.
24 maart 2002: Afgelopen week wat tijd voor kleine klusjes zoals straatleggen, boekhouden en een bult aardappelgrond afdekken. De bult grond die bij het aardappel afleveren uit de schuur kwam. De wintertarwe heeft de stikstofbemesting nu goed te pakken en begint goed te groeien. De wintertarwe heeft door de goede zaaiomstandigheden vorig najaar een dikke stand.
---
---
28 maart 2002 :Vandaag was het land alweer goed berijdbaar om kunstmest te gaan strooien. Het vlasland en het uienland heb ik gestrooid met N-P 20-34 en het bietenland met N-P 26-14.
---
Op het einde van de middag heb ik het uienland klaargelegd voor het uienzaaien. Het uienzaaien word gedaan door Heijboer uit Biddinghuizen. Waarschijnlijk worden de uien vrijdag (29-03) gezaaid. Morgen (28-03) ga ik misschien suikerbieten zaaien.
De uien zitten in de grond. Heijboer uit Biddinghuizen heeft de uien gezaaid. Net als vorig jaar teel ik weer rode uien van het ras Red Baron voor NO BV.
---
Vanmorgen ook begonnen met het zaaien van de suikerbieten. Dit doe ik met een 6 rijige zaaimachine van Becker die ik van collega-akkerbouwer gebruik. Voor het zaaien rijdt mijn vader het land zaaiklaar met een rotorkopeg . Omdat het land dit jaar niet helemaal goed vlak ligt heb ik voorop de tractor nog een Cappon eg met rollen. Zo kan ik in 1 werkgang het zaaibed goed vlak krijgen. Dit jaar zaai ik 2 Bietenrassen, namelijk Johanna en Trinidad. Ik hoop morgen tegen de middag (29-03) de suikerbieten gezaaid te hebben.
29 maart 2002: Vandaag de laatste suikerbieten gezaaid. Vanmiddag 2 kipwagens pootgoed gehaald en in jumbozakken gezet. De rest van het pootgoed haal ik na het Pasen op. Ook dit  jaar ga ik Turbos poten voor Meijer uit Swifterbant. Het pootgoed haal ik op bij Meijer uit Swifterbant.
---
Het vlas is 30 maart gezaaid door loonbedrijf Capelle uit de Noordoostpolder. Ook heb ik al vast het erwtenland klaargemaakt met de rotorkopeg. De erwten worden waarschijnlijk volgende week gezaaid.
https://www.harrysfarm.nl/wp-farm/uploads/2017/02/Harrysfarm-Swifterbant-Flevoland-maart2002-kunstmest-strooien-uien-zaien-vlas-zaaien-afvalhoop-uizaai02.jpg
600
800
Harry Schreuder
https://harrysfarm.nl/wp-farm/uploads/2018/05/Logo.png
Harry Schreuder
2002-03-31 16:35:58
2017-02-18 16:50:37
Maart 2002