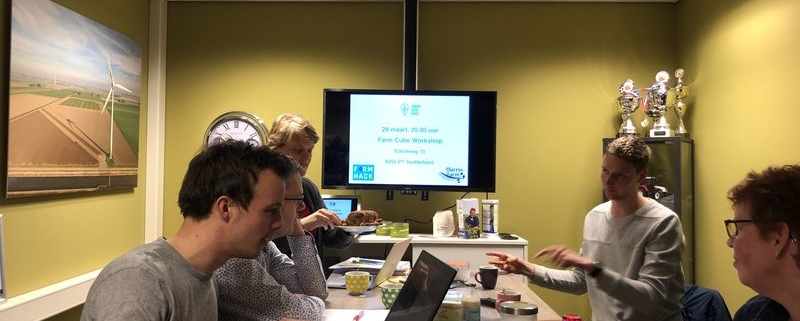 Workshop FarmCube en ISOBlue
Met een select gezelschap van 12 mensen hebben Anne Bruinsma en Josien Kapma van FarmHack in de kantine van Harrysfarm een workshop georganiseerd. Centraal tijdens deze workshop stond de introductie van FarmCube, een toekomstige datacoöperatie die centraal alle beschikbare data die een agrariër bezit opslaat. De eerste resultaten werden deze avond gepresenteerd en men probeert voor het vervolg input uit de deelnemers van de workshop te halen.
Het veilig, uniform en gemakkelijk delen van data delen is de sleutel voor het beter benutten van het maatschappelijk en economisch potentieel van data. Maar de infrastructuur voor het op schaal en gestructureerd delen van data is nog niet op orde. Lokale opslag en structurering van data bij de boer is een belangrijke volgende stap. Hierover gaat het project Farm Cube, een flagship innovation experiment van het Smart Agri Hubs programma. aldus Anne Bruinsma
Tevens werd ISOblue geïntroduceerd. ISOblue is een datalogger die data uit een trekker of werktuig logt en daarna in een universeel formaat oplevert. Aan het eind van de avond is er data uit mijn Steyr gelogd en deze wordt nog verder bekeken om te kijken of de data bruikbaar is. Er is inmiddels een pilot met 5 agrariërs die het product testen. Akkerbouwer Derk Geesink doet mee aan deze pilot.
Hieronder een filmpje hoe akkerbouwer Derk Geesink uit Mensingeweer het voor zich ziet hoe ISOblue ingezet kan worden.

Trekkerdata vrij beschikbaar maken: Dutch ISOblue from FarmHack.NL on Vimeo.
Uit het select gezelschap die aanwezig waren zat iemand van Dronewerkers, Delphy, WUR, student, bodemexpert, techneuten en nog wat boeren.
Tijdens deze avond werden de twee onderwerpen nader uitgelegd en kon men er over discussiëren. Al met al een vruchtbare avond voor een ieder.
Meer info over het FarmHack forum is hier te vinden. Men kan zich aanmelden en mee discussiëren.
https://www.harrysfarm.nl/wp-farm/uploads/2019/03/IMG_9105_-Harrysfarm-akkerbouw-Swifterbant-Flevoland-28-maart-2019-FarmHack-.jpg
600
800
Harry Schreuder
https://harrysfarm.nl/wp-farm/uploads/2018/05/Logo.png
Harry Schreuder
2019-03-28 14:22:24
2019-04-23 19:25:13
Workshop FarmCube en ISOBlue