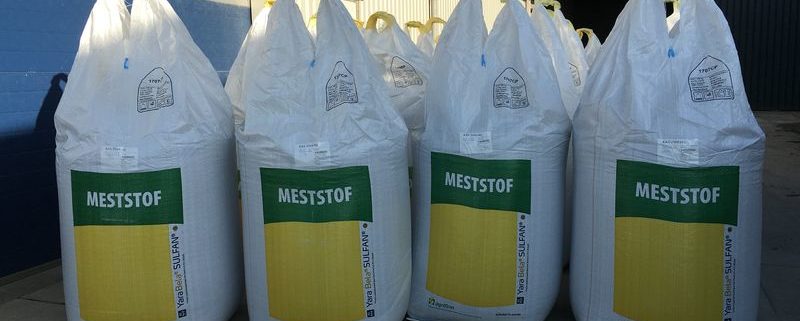 Dinsdagmiddag 6 februari heb ik een vracht kunstmest ontvangen. De kunstmest die in plastic bigbags van 600 kg/bigbag zitten zijn geleverd via Agrifirm. De meststoffen zijn straks in het voorjaar nodig. Een deel van de meststoffen misschien al eerder. Als de grond wat hard is kan de al groeiende wintertarwe wel wat bemesting gebruiken.
Bij aanvang van een nieuw teeltseizoen heb ik een bemestingsplan gemaakt om te bepalen welk gewas welke behoefte heeft. In dit plan word beschreven wat er in 2018 op de verschillende gewassen word bemest. Minerale (kunstmest), dierlijke meststoffen maar ook champost of compost, worden meegenomen in dit plan. Een akkerbouwer moet voldoen aan een regelgeving met gebruiksnormen. We mogen niet onbeperkt de elementen stikstof en fosfaat strooien of uitrijden. De elementen stikstof en fosfaat zijn wel belangrijk voor de groei en ontwikkeling van onze akkerbouwgewassen. Dus het is goed zaak om het bemestingsplan goed op te maken.
Alle info over de wettelijke gebruiksnormen voor stikstof en fosfaat zijn hier te vinden.
In het voorjaar gebruik ik meestal kunstmest, na de oogst van de wintertarwe word er organische mest gebruikt.
https://www.harrysfarm.nl/wp-farm/uploads/2018/02/IMG_0507-Harrysfarm-Swifterbant-Flevoland-6-februari-2018-kunstmest-aanvoer-Kas-zwavel-KAS-.jpg
600
800
Harry Schreuder
https://harrysfarm.nl/wp-farm/uploads/2018/05/Logo.png
Harry Schreuder
2018-02-06 13:36:27
2018-07-18 11:18:09
Aanvoer kunstmest