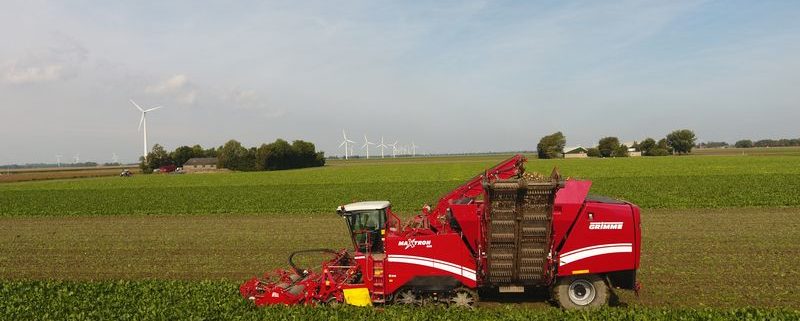 Donderdagmorgen om 7 uur is Loonbedrijf Vedelaar uit Nagele begonnen met het rooien van de suikerbieten op Harrysfarm. Het perceel waar de suikerbieten staan is ca. 9 ha groot. In het perceel ligt ca. 3 ha proefveld met ongeveer 2800 proeven (trials) van SES van der Have uit Rilland. Tussen de proeven moeten de paden ook vrijgerooid worden door Loonbedrijf Vedelaar. Maandag 25 september word een begin gemaakt met het rooien van dit proefveld, maar eerst worden onze eigen suikerbieten van het ras BTS 990 gerooid. Deze suikerbieten moeten 24 september klaar liggen op het erf. Vanaf die datum worden de suikerbieten opgehaald en gaan dan naar de suikerfabriek in Groningen.
Er word gerooid met een Grimme Maxtron 6 rijige bietenrooier met een bunkerinhoud van ca. 20 ton suikerbieten. Loonbedrijf Vedelaar komt ook met een 20 tons wagen die de suikerbieten aan de hoop brengt. Onze eigen materiaal is te klein om de bietenrooier bij te houden. De opbrengst lijkt erg goed te zijn. Met 1 rondje rijden is de bunker van de bietenrooier hartstikke vol.
---
Met de lunch heeft Leo van SES van der Have kibbeling vanuit Swifterbant meegenomen. Dat gaat er uiteraard goed in.
---
De suikerbieten worden op het erf en op de betonplaten bij de twee windmolens gestort.
---
Nadat mijn suikerbieten gerooid zijn rooit Loonbedrijf Vedelaar de paden tussen de proefvelden van  SES van der Have eruit. Vanuit de lucht een mooi gezicht.
---
Hoe het groeiverloop van de suikerbieten in 2017 op Harrysfarm was is hier te zien.
---
Hieronder videobeelden van het rooien van de suikerbieten met beelden vanaf de grond en vanuit de lucht.
https://www.harrysfarm.nl/wp-farm/uploads/2017/09/Harrysfarm-Swifterbant-Flevoland-21-september-2017-suikerbieten-rooien-oogst-vedelaar-BTS990-DJI_0395.jpg
600
800
Harry Schreuder
https://harrysfarm.nl/wp-farm/uploads/2018/05/Logo.png
Harry Schreuder
2017-09-21 15:36:21
2018-07-18 11:18:11
Suikerbieten rooien